Posted in: News, THE SHOW with David Burrows | No Comments | Posted on March 15, 2017 by Mary Anne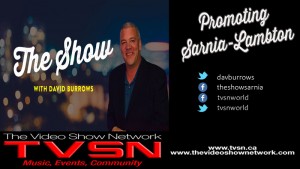 Published on Mar 14, 2017
The Show with David Burrows #280
Opening Segment:
Sarnia Sting​ recap: www.sarniasting.com
The Entertainment Scene:
Dennis Ullman​ from March Of Dimes Canada​ joins us for a long distance interview to share details of the upcoming Rock For Dimes Sarnia 2017​. The event will once again be held at BrownStones Sports Lounge & Restaurant​ with musical guests SUIT UP Whiskey Rain​, Dressed to Kill and Jeff Poolton​.
In The Community:
Community Concerns For The Medically Fragile​ is once again holding an art display at The Lawrence House​
in Sarnia. Sue Bendall​ explains how this 'Sensory Based Learning Experience' has had a positive impact on the artists who participate in the program.
Closing Segment:
More updates to the new website at www.tvsn.ca