Posted in: News, THE SHOW with David Burrows | No Comments | Posted on August 17, 2017 by Mary Anne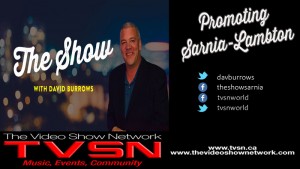 Published on Aug 16, 2017
The Show with David Burrows #302
Opening Segment:
Karaoke fun on the Duc d'Orleans II
Special Thank you to Stephanie Purdy from Purdy Ideal You Weight Loss Center
The Entertainment Scene:
Virtual Reality Arcade opens in Sarnia. Travis Kelly from District Beta gives a demonstration of the new VR arcade located at Valley Axe. The arcade is already doing well with bookings and will have 7 VR booths open by September 1st.
In The Community:
Movie nights are always fun and a great wait to socialize in the community. Dan Genovy of Libro Credit Union invites the public to join them at Canatara Park for Moana. For the 7th year the Sarnia Libro branch is not only hosting movie night, but several other activities for children will be available starting at 6:30 pm.
Closing Segment:
Artzscape by the BAY 2017 is coming to Centennial Park supporting Pathways Health Centre for Children sponsored by Terrapure Environmental
Northern Heat Rib Series and Craft Beer show returns to Hiawatha Horse Park for another year of tasty ribs, entertainment and backyard activities for all ages. More announcements coming soon!
Watch more community videos and events at www.tvsn.ca