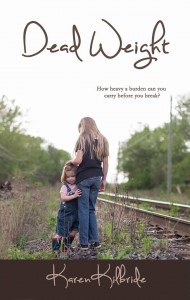 Official book launch of novel 'DEAD WEIGHT' by former Sarninian Karen Tremblay Kilbride.
Join us on Friday, January 22 at 7 p.m. for local author Karen Kilbride and her new book, Dead Weight.
How heavy a burden can you carry before you break?
Katie and Amanda.
One, a lonely little girl. The other, a long-awaited baby sister.
A dream come true, or a nightmare?
One must starve so the other can eat; one must work so the other can play.
Throughout their lives, one must give so the other can take.
But what happens when the scales are tipped?
Set in small-town Ontario, Dead Weight is a raw look into the bond of sisterhood, one that has the power to both save and suffocate.
Dead weight is the first venture into the print-publishing world for short-story author, blogger, and illustrator Karen Kilbride. A memoir-style novel with sharp dialogue and loveable characters, Dead Weight is an astute, insightful and relatable story for anyone who has ever had a sibling or wanted one.
Born in Chatham and raised in Sarnia, Karen Kilbride (originally Tremblay) learned to make her mark on paper at an early age by reading, writing, and drawing stories constantly. Her love of drawing led her to an animation career in Toronto, where she learned the valuable tools of storytelling and character development. A move to Windsor caused Kilbride to make a career change to teaching college-level English. Luckily, this helped her to hone her skills even further so she could begin writing seriously. While her career has taken her to many parts of Canada, she still holds a fondness for Sarnia and often visits her family there.
This is a free event, please stop by!