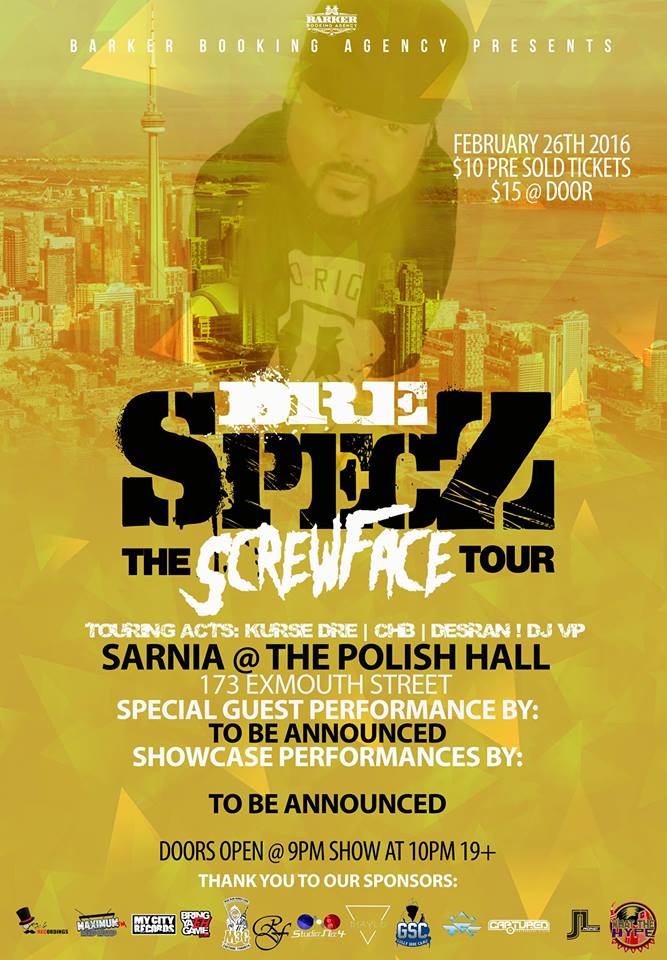 Barker Booking Agency and Seery's Ent Presents:
#TheScrewFaceTour2016 Featuring Scarborough / Toronto's Own Dre Specz, Dre Specz who was recently signed to Oracle Recordings A Label based out of Toronto and UK. Dre Specz has been carving his name in the underground industry for several years and his hard work and consistency is starting to pay off huge. Recently Touring with Phillys own Freeway, also collaborating with the Rocafella artist on a song and video that was put out in 2015 and has received a lot of attention and great feedback. Dre Specz also toured Ontario 3 times in 2015 and several times over the years, needless to say he has put in his ground work and people are starting to ride the wave. This heavy hitting, Street Style Hip Hop act is sure to have the crowd rockin.
Also On Tour are Special Guests
Kurse Dre:
Desran:
CHB:
DJ VP:
This Show will also have prizes from our sponsors for the performing acts, for more information please contact Barker Booking Agency on Facebook.