By popular demand, Cheeky Monkey, Sarnia's downtown records and more store, is pleased to be bringing back Mike Blackmore (performing as Blackmore & Blackmore) for their October 4th First Friday.
Due to unforeseen circumstances, the band WarwiK are unavailable as formerly planned and Mike being the kind soul he is and always willing to play his music live, has stepped in.
Mike recently released an instrumental CD of his original songs called 'Coyote'.  Local music fan and reviewer, Brian Hay, had this to say about it…
… "There are right and wrong ways to do everything. What Mike Blackmore does with his two instruments, a set of looping devices and a healthy influx of creative imagination is definitely an illustration of one of the right ways. Technological aids are frequently used to create shortcuts. That's one of the knocks against them. Another is the reputation they've acquired for stripping the music of its warmth. With Mike Blackmore there are no shortcuts. That, along with the imagination involved, insures the music carries the spontaneity and warmth of something that's been created on the spot. That's true of his live shows and of his new release, the CD 'Coyote'.
Mostly it's his guitar that is front and centre, but the djembe drum takes the fore once in a while. From that point he builds the arrangements in layers. His percussion always has a basic backbeat and a fill or so in order to mark changes with a dramatic effect. The rhythm tracks have solid time signatures, generally a bit of ornamentation to spice them up and plenty of space for Mike to add lead playing. From there he plays over top of the arrangement and uses the pedals to control how everything meshes together.
Thousands of hours spent deepening an understanding of how the devices will respond provides the confidence needed to try those ideas. Much of what comes from there rolls off as if by magic. The capabilities of the tools offer yet more possibilities. One pedal gives the acoustic guitar the sound and feel of an electric hollow body. The wah-wah pedal he uses provide what is, by far, the most convincing sound that I've ever heard from an acoustic guitar. As is the norm, he uses the effect for what is needed to impress while leaving one drooling in anticipation of hearing more. His lead picking combines sensitivity and the same impeccable taste needed to make musical treasures of each moment.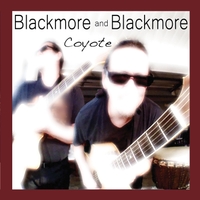 The title track has a stark sensibility that evokes imagery of the titled 'Coyote' alone in a desert at night. 'Nowhere Blues' begins with a bluesy grinding that leads into lighter territory. 'Cactus Jam On Toast' and 'Myth' feature exquisite lead playing as does 'Mr. Bad Lucky'. That last song leans to blues but hints toward other areas.
The material is accessible and easy to connect with before settling in with something that stimulates the imagination in any number of ways. The recorded quality is crisp with clear separation between instruments. Natural sounds (such as the squeaks acoustic guitars make or the sense of strings being plucked) are distinct, as they should be. Everything about the CD feels live."
Come hear for yourself the music of Blackmore and Blackmore from 7:00 to 9:00 p.m. during the October 4th First Friday at Cheeky Monkey, 130 Christina Street North.  Mike's newest CD 'Coyote' is available to purchase at Cheeky Monkey.
Also available to enjoy looking at or purchasing while in,  is the artwork of local plein air artist W.A. Walters.  His current exhibit called "Solstice" is on display and for sale until the end of November.