Posted in: Entertainment History, News | No Comments | Posted on August 15, 2021 by Mary Anne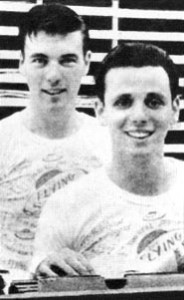 1956 - August 21
Comics Bill Buchanan and Dickie Goodman have the number three song in America with a novelty tune called "Flying Saucer". The premise of the record was two radio news reporters who ask questions which are then humorously answered with snippets from mid-'50s hits. Buchanan and Goodman were sued by 17 different record companies for copyright infringement, but all were dismissed by a ruling that said the parodies did not infringe on the sales of the original hits.
The song is considered to be an early (perhaps the earliest) example of a mashup, featuring segments of popular songs intertwined with spoken "news" commentary to tell the story of a visit from a flying saucer.
Bill Buchanan plays the radio announcer, stating that the spacemen are attacking Earth. Dickie Goodman plays reporter John Cameron-Cameron (a play on the broadcaster John Cameron Swayze). Goodman would re-visit this character in several other 'Flying Saucer' records.