Posted in: Concerts & Events, Local Talent, News | No Comments | Posted on September 8, 2021 by Mary Anne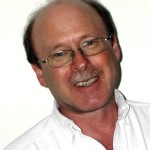 Dressed to Kill: Labour Day Weekend 2015 Cruise Aboard the Duc d'Orleans as reported & photographed by
BRIAN HAY
The calibre of musicianship in the band, Dressed to Kill, is high. Bass guitarist Bruce Sleeuwenhoek lays down straightforward threads that combine the best elements of melody, simplicity and timekeeping. Drummer Dallas LaBarre uses strong backbeats that establish time signatures and marks changes with creative fills that emphasize the dramatic qualities of the music. The solid platform they establish opens the path for a considerable amount of freewheeling by the lead players. Singer/guitarist Keil Simmons and lead axe man Jeff Turnbull make great use of that space.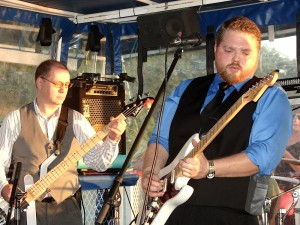 Jeff Turnbull is the established lead guitarist and it's a role justified easily by his combination of technique and versatility. Solos roll off him with the ease of one who appears born to play them. His work rides what the other players give beautifully, often seeming to coast effortlessly along the path set out by the rhythm players. Keil Simmons' blend of range, control of pitch and passion by the boatload insures that raw emotions dominate his delivery. His rhythm playing fits nicely in the pocket established by LaBarre and Sleeuwenhoek and the lead passages he delivers work nicely on their own or in tandem with lines played by Turnbull. The instrumental dialogues they share are often among the highlights of their shows.
This band also reads and reacts to what their audience projects well. They offered the choice between more of the soulful (and almost sexual) blues and dance style material frequently and invariably placed their focus on what the crowd preferred. They did step into the sensual material periodically but never for long enough to disrupt the great mood they'd created. Lead singer Keil Simmons especially interacted constantly with the audience and was as involved with them as he was with the work of his bandmates. They're a classy group as well. At one point a young woman who was almost painfully shy made a request. They didn't know the song, and obviously felt bad about it, but played something with a similar feel in lieu of what she'd asked.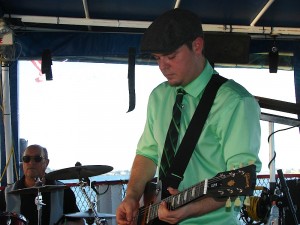 They didn't have the easiest of starts. The upper deck of the Duc d'Orleans can be a difficult place to set a sound system up when everything works right and theirs chose this occasion to act up. Their understanding of its workings allowed them to (mostly) overcome the issues. Good separation maintained clarity between the instrumental sounds and the vocals always rose above the mix. The sets they played were energetic but also had a relaxed feel. Feedback reared its head a few times but it wasn't a big problem. When it did come up Keil reined it in with quick adjustments and kept things light with comments like "sh*t sometimes happens when people play live music".
The night was clear and the music was good. It was a great way to spend an evening in the middle of the Labour Day weekend.