Posted in: News, Trivia Q & A | No Comments | Posted on November 23, 2021 by Mary Anne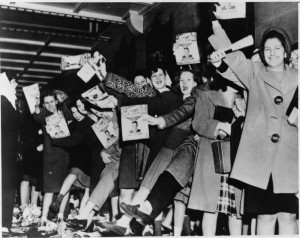 The teenage girls that went beserk about Frank Sinatra during the Sinatramania years were named after an article of clothing.   Q. What were those girls called ?
A.  Bobbie Soxers
Bobby soxers were usually teenage girls and young adult women from about 12 to 25. Fashionable adolescent girls wore poodle skirts and rolled down their socks to the ankle. In high schools and colleges, the gymnasium was often used as a dance floor; however, since street shoes and street detritus might damage the polished wood floors, the students were required to remove their shoes and dance in their bobby socks, hence the phrase "sock hop".
The 1940s music that floated through the airwaves and into the minds of teenage bobby-soxers was that of big bands, such as the Glen Miller and Tommy Dorsey Orchestras. It was also the era of the heartthrob male crooners, who often transitioned from the stage to the screen, where fans could see their crushes in action. Bing Crosby, Mickey Rooney and Van Johnson were a few of these leading "croon cats," but they paled in comparison to the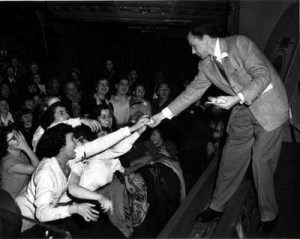 king of the crooners, "The Voice" himself: Frank Sinatra [source: Fitzpatrick]. Sinatra started out with the Dorsey Brothers Orchestra, then left to pursue a solo career. By 1943, Sinatra had become the apple of seemingly every bobby-soxer's eye, singing to a swooning crowd of 10,000 at the Hollywood Bowl Not surprisingly, in 1944 — the year of his riot-inducing Paramount Theater performances — the official Bobby Soxers of America organization voted Frankie their "Man of the Year"
Predecessors to the hoards of screaming, fainting Beatles fans that would fill concert halls and stadiums a generation later, bobby-soxers became known for swooning over Frank Sinatra and other male celebrities. Swooning was a public display of infatuation that involved girls groaning and dramatically flailing their arms before placing their hands on their foreheads or cheeks and ultimately falling to the ground, overwhelmed. One former bobby-soxer recalled to the Paley Center for Media how she and her friends used to kick off their saddle shoes, play Sinatra records and "practice swooning" Fan clubs, celebrity magazines and movies fueled bobby-soxers' obsessive crushes — not to mention record album and concert ticket sales.<?P>