Posted in: Concerts & Events, Local Talent, News, Reviews | No Comments | Posted on December 22, 2021 by Mary Anne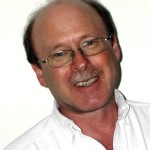 The First Annual Rock and Roll Christmas Concert: Sold Out, Rocking and Fun! How Cool is That!
Sunday December 21, 2021
by Brian Hay
With power drummer Andy Hardman and bassist Frank Seager at its core the Jingle Band combined the force of a charging Rhino with an ability to step back and let subtleties in the softer arrangements be dominant. Pianist Dan Sonier, violinist Caitlin Mason, saxophone and clarinet player Chris Molyneaux rounded out the core while David Chaulk played (mostly) rhythm guitar and Chris Joyce took the bulk of the lead work. Most of the players picked up their instruments at various times.
The show opened with Doug Stewart soaring through "Rudolph" with minimal accompaniment before shifting gears with a driving full band performance of "White Christmas" sung by Denise Chaulk. Stewart's and Erika Sit's rendition of "Run, Run Rudolph" settled things back down. MC's David Burrows of "The Show" and Fox FM's Sarah Woodley, appeared on stage after the musical presence was established and had a strong impact with their lively presence thereafter. Rob Jenkins followed them by singing "Santa Claus is Coming to Town" with plenty of jump.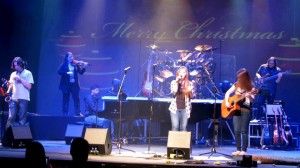 There was an abundance of highlights. Jamie McDowell's reading of "Hark The Herald Angels Sing" was electrifying. Erika and Sara did a beautiful rendition of "I'll Be Home For Christmas". Denise Chaulk's playfully vamped take on "Santa Baby" was sexy and hilarious. Chris Molyneaux dazzled the audience repeatedly with amazing solo work and Andy Hardman's drum solo left them breathless.
Theatrics were prominent as well. David Burrows and Sarah Woodley did a spoof on what made people want to throw tomatoes at karaoke singers. David Chaulk and Chris Joyce showed humour and skills with a guitar duel between elves. Their appearance in those suits had the crowd in stitches even as they applauded their skills. The performance of "Mr. Grinch" by Chris Joyce was made outrageously funny with an appearance of the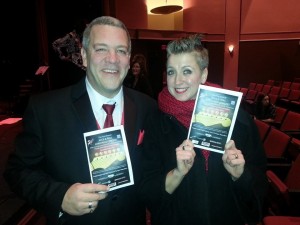 creature himself.
Great music continued through it all. Adam Miner gave a stunning performance of "Santa Claus is Back in Town". Sue and George Webber moved hearts with "Merry Christmas Baby" and Caitlin Mason played a beautiful lead in to "Christmas Canon Rock" before Denise Chaulk and Jamie Lang brought the house down with it. The most poignant moment of the evening however, was Jim Chevalier singing "Happy Christmas (War is Over)". It embodied everything the season should be concerned with.
Dan Tidball had the sound clear for the entire show. Tim Molyneaux had microphones placed well and addressed the few problems that happened quickly. Matt Leslie created dramatic lighting schemes and used background projections well. The Harmony For Youth Choir lent their delectable talents to several of the numbers. The arrangements for the songs were wonderfully original.
This show delivered everything that was expected and added cherries with an array of surprises. David Chaulk deserves a world of credit for assembling the team needed to bring it to life. The group apparently had ideas flying around until close to showtime. That speaks highly about his leadership abilities. This couldn't have had the degree of spontaneity it carried without that. The result was fun and more fun for an ecstatic audience.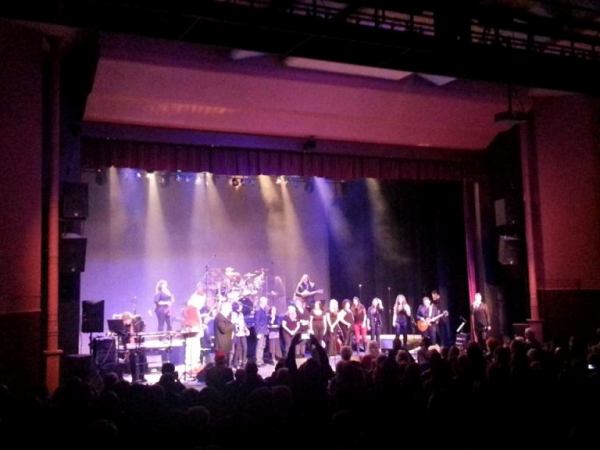 The encore of "Do They Know It's Christmas" that was done by the entire group provided a stirring close to an excellent show. The "first" may well lead to many. Let's hope.
The First Annual Rock and Roll Christmas Concert took place at The Imperial Theatre in Sarnia Ontario on Saturday December 20, 2014. The article was written to convey impressions of what it was like to be there.
Photographic credit to Kerry Belliveau of Kerry's Klips