Posted in: First Friday, Local Talent, Reviews | No Comments | Posted on February 6, 2022 by Mary Anne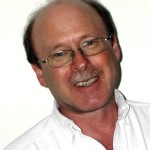 Editor's note- Thank you to Brian Hay for writing the review below regarding Cheeky Monkey's February First Friday event.  To see more photos of Evan Dawe & John Pilat CLICK HERE.
That same night, the band Roundhouse was playing at the Trinity Lounge and he has reviewed them as well.  They are the band playing during March 3rd First Friday at Cheeky Monkey.  CLICK HERE for details.
Sarnia's First Friday, February 3, 2017: evan.john at the Cheeky Monkey and The The Rapids with Round House at the Trinity Lounge — Young Musicians Bringing the Excitement Back to Music
by Brian Hay
This is no small thing. I didn't see it but have read that the Superbowl halftime show was polished but lacking in excitement and surprises. Recently a high profile event featured a big surprise but having the singer stop while the music continued with the vocals wasn't one anybody involved wanted. The "why" isn't important. What matters is that audiences get cheated. They got fair deals at the live events featured on First Friday though.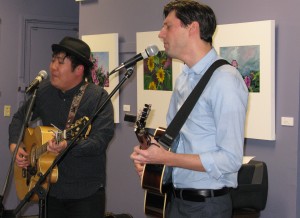 evan.john, a new band comprised of John Pilat ad Evan Dawe gave their first public performance at the Cheeky Monkey and it was one to remember. The pair work with acoustically and feature breathtaking harmony work that's often sublimely beautiful. Strong guitar playing by the pair provides the foundation for covers that range from the music of Simon and Garfunkel to the Milk Carton kids with a few of John's original pieces sprinkled in. The videos they posted online in the last few weeks showed they were good but couldn't really prepare listeners for what they offer in a live setting.
The textures in their harmony singing are astounding. Their guitar work is powerful as well with aggressive playing thrown in by both that adds considerable amounts of dramatic thrust to their delivery. Finally, their banter between numbers is priceless. Evan is wildly funny and brings out John's wit nicely. Together, they're hilarious, and keep their audience engaged between songs as well as during them. Add their fine musicianship to the mix and what's there is a group that's going to bring joy to a multitude of listeners.
People should keep watching because the rewards are going to be huge.
The show at the Trinity Lounge featured The Rapids, Round House and The HJ's. I missed The HJ's but managed to catch most of the set by Roundhouse and the full performance by The Rapids. Impressive doesn't begin to sum the experience up.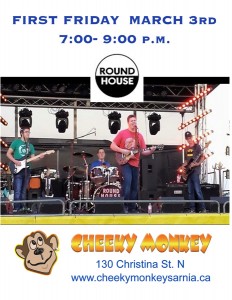 Round House, a band whose oldest member is just seventeen, captures the spark inherent in classic rock in a fashion that's not seen often. They have since their start about a year ago but hard work and the musical maturity that's come about as a result has marked their development to the point where it was obvious the instant they were heard. Singer/guitarist Jared Parke and lead man Ryan Ethridge combine for an exemplary one-two punch in front of the rhythm section comprised by drummer Brock Round and bassist Bryce Abrams. All of the four have exceptional skills. Together there's chemistry that sends a charge through the room. All of them are singing now and their exchanges have become fabulously intuitive. In a short time they've become a hugely popular group and that's only going to increase. They're focused and enjoy what they're doing. They're also a really good group of guys.
The Rapids do something that's been rare in rock music for a long time — they make the music sound dangerous. Drummer Mason Stewart and bass player Tyler Andersen have their part so tightly intertwined they're virtually two heads on the same coin. They can (and do) play with a sense of reckless abandon knowing their partner will follow what their lead immediately. Lead guitarist Matt Bailey threads his work into what they do effortlessly and with impeccable taste — he never overplays anything. Rhythm guitarist and singer Matt Weed opens up rooms. There's an electrifying charge in his delivery that's present even when he steps back and lets his three band mates do their thing. Their choice of covers spans an arc from the '60's and '70's through to the present and their originals are both excellent, and crowd pleasing. What they do best though is bring a sense of danger to the music. Rock is at its best when it feels like a train entering a tunnel on one side of a mountain without the engineer being sure whether the bridge that's supposed to be at the other end will be there. The four players in The Rapids are all perfectionists who strive for high standards and could pull off note perfect performances easily. They prefer to take the chances and the excitement is there because of it.
Behind the scenes drummer Andy Hardman did a great job handling the soundboard. The groups were able to play loud (as they should) but the instrumental and vocal parts were still pretty clear. The house was full for much of the night and what the groups offered was more than worth the small cover charge. It was a great night.