Posted in: Concerts & Events, Friends & Neighbours, Local Talent, News | No Comments | Posted on May 19, 2022 by Mary Anne
Beside Sarnia Bay Marina is a gem of a resturant called Alternate Grounds Dockside.  Provided good food, in a scenic setting, they also have live music playing for your dining entertainment.  Below is a review by local music lover and blogger, Brian Hay letting you know what went on recently.
For more listings of what his coming up at Dockside as far as live music, along with other venues in the city… CLICK HERE.
For more reviews written by Brian, check out his website- CLICK HERE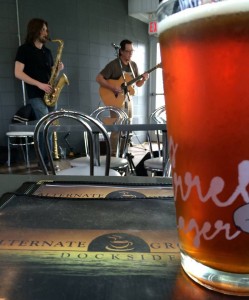 Mike Blackmore and Chris Molyneaux at Dockside, Saturday May 16, 2015: The Place To Be That Night  by Brian Hay
Common sense (that thing that's not generally "common") was a big  factor in the approach Mike Blackmore and Chris Molyneaux took to their performance at the Dockside Cafe. Both of them know volume can easily overwhelm a small place so they cut back on that. They hadn't played together for a while so they kept things reasonably safe until their intuitive connection returned. They experimented by playing just instrumental arrangements for a bit while the audience was really small but backed off when it wasn't quite working out. Playing that way worked in their favour though because it gave them the opportunity to brush up as more people arrived.
The tentative feeling that resulted from trying to keep from tripping over each other during the first set was a thing of the distant past at the beginning of their second one. The music literally came out of the gate with the force of Chariots in a race during the time of ancient Rome. Chris leaped through the markers set out by Mike. His playing  took on an even more emphatic rhythmic chop and his singing took on the zest that happens when he's having fun. His jokes between songs (invariably so lame they're disarmingly hilarious) got even cornier and the improvised lyrics he began throwing in even cracked Chris up at one point. Mike literally plays the role of the bad comedian with a flourish that deserves an Academy Award. As always, it was a hoot.
Their last two sets featured vibrant covers of standards like 'Sixteen Tons', 'Summertime' and renditions of Mike's own pieces, 'More and More' and 'A Celtic Love Song'. Favourites like 'Mr. Bojangles' and 'People Get Ready' came through with a flair that made them absolutely ravishing. Chris gave one of his best solos of the night to Dean Martin's signature piece 'Everybody Loves Somebody' and the pair combined for a fabulous performance of 'House of the Rising Sun' that led with the conventional opening before giving way to Mike's extraordinary take on the piece. Everything sounded new again.
Both players read musical signals intuitively but the differences in how they respond make their combination a great one. Chris uses them like markers on a road map while taking advantage of spaces to make little forays on the side. Wonderfully controlled tone, fluid playing and tasteful ornamentation combined with the restraint to keep the source material clearly in focus make those journeys things to embrace and anticipate. Mike's timekeeping is impeccably in step with both his singing and the work of players he accompanies; he's literally the Charlie Watts of guitarists. With Chris the bond is natural enough that he's able to anticipate where the solos are headed and signal changes to direct them to different avenues. When they're reading each other well the dynamic they have is superb.
It fell into place nicely and with the shows they have lined up is only going to get better. Dockside was definitely the place to be last night.