Posted in: Auditions/Call for Vendors/Volunteers/Submissions, Local Talent, News | No Comments | Posted on January 14, 2022 by Mary Anne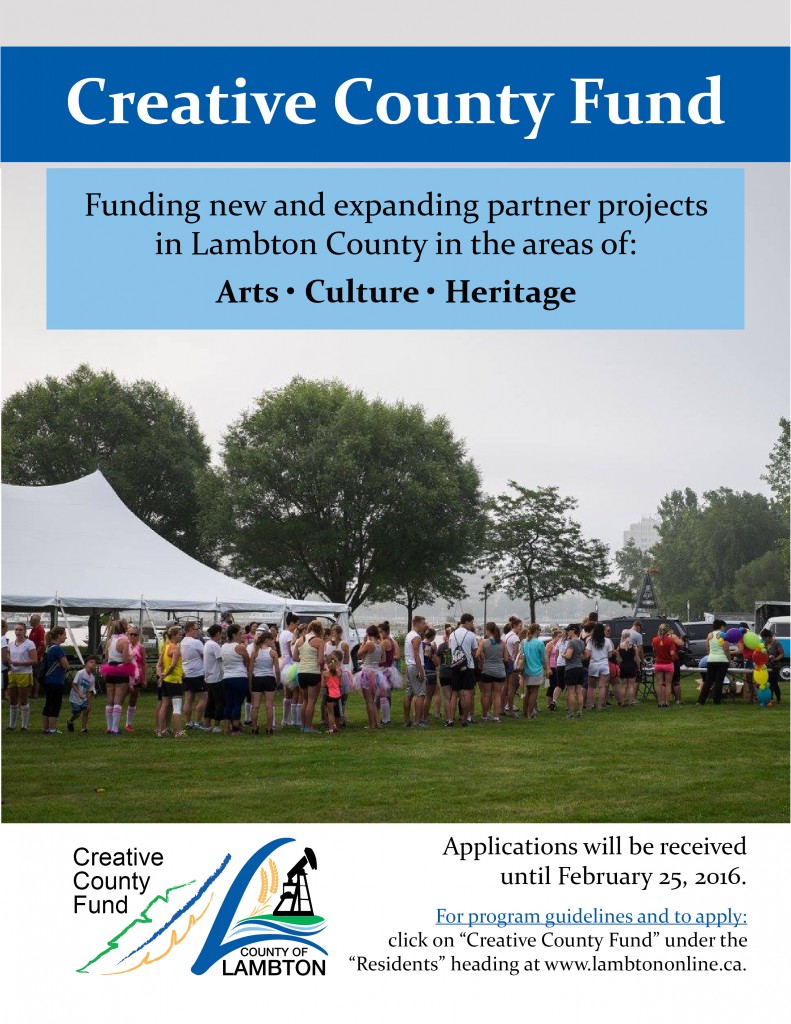 Lambton's Creative County Fund Opens 2016 Funding Intake
Thursday, January 14, 2022
Wyoming, ON - Lambton's Creative County Fund is inviting the organizers of new or expanding cultural, heritage, and arts initiatives locally to apply for funding to cover up to 50 per cent of their project cost.
The Creative County Fund's ­only intake of 2016 is now open, with a total of $75,000 available for partner projects, events, activities or workshops that will enhance cultural vitality in Lambton County.  Program Guidelines and the related application form can be found by clicking on the "Creative County Fund" tab under the "Residents" heading at www.lambtononline.ca.
"The Creative County Fund continues to demonstrate a growing, lasting impact on the cultural fabric of Lambton County," said Warden and Creative County Fund Chair Bev MacDougall.  "The Creative County Committee is eager to see what type of ideas our community has in store this year."
Applications must be submitted by 4 p.m., Thursday, February 25, 2016.
The Creative County Committee has advanced $218,705 since its first funding intake in 2013.
Please contact:
Bev MacDougall
Warden
County of Lambton
519-381-6111
[email protected]