Posted in: Entertainment History, News | No Comments | Posted on August 11, 2021 by Mary Anne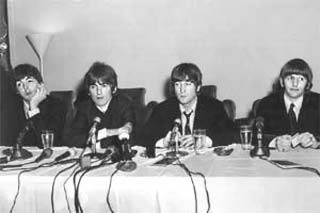 1966 - August 14
London's Catholic Herald calls John Lennon's remark regarding The Beatles being more popular with teens than Jesus, "arrogant." However, the publication went on to say that "It's probably true."
In March 1966, the London Evening Standard ran a weekly series of articles entitled "How Does a Beatle Live?" which featured John Lennon, Ringo Starr,George Harrison, and Paul McCartney respectively. The articles were completed by journalist Maureen Cleave, who knew the group well and had interviewed them regularly since the start of Beatlemania in the UK. Three years previously she had written they were "the darlings of Merseyside", and had accompanied them on the plane on the group's first US tour in February 1964. For her lifestyle series in March 1966, she chose to interview the group individually, rather than all together, as was the norm.
Cleave interviewed Lennon on 4 March 1966. At his home, Kenwood, in Weybridge, she found a full-size crucifix, a gorilla costume, a medieval suit of armour and a well-organised library, with works by Alfred, Lord Tennyson, Jonathan Swift, Oscar Wilde, George Orwell, Aldous Huxley, and The Passover Plot, byHugh J. Schonfield, which had influenced Lennon's ideas about Christianity.  Cleave's article mentioned that Lennon was "reading extensively about religion", and quoted a comment he made:
Christianity will go. It will vanish and shrink. I needn't argue about that; I'm right and I'll be proved right. We're more popular than Jesus now; I don't know which will go first—rock 'n' roll or Christianity. Jesus was all right but his disciples were thick and ordinary. It's them twisting it that ruins it for me.
Cleave's interview with Lennon was published in the Evening Standard in March 1966 and provoked no public reaction in the UK.  Church attendance there was in decline and the Christian churches were making no secret of their efforts to transform their image into something more relevant to modern times.
The day after Cleave's article appeared in the Evening Standard, Beatles press officer Tony Barrow offered Datebook, a US teen magazine, rights to all four interviews.  In late July 1966, nearly five months after UK publication, Datebook republished the interviews. However, art editor Art Unger decided to deliberately put Lennon's quote about Christianity on its front cover, cutting the prose before it.   Al Benn, who was the Bureau Manager for United Press International News, heard the WAQY show and immediately filed a news report in New York, culminating in a front page news story in The New York Times on 5 August. Around two dozen other stations followed WAQY's lead with similar announcements. Some stations in the Deep South went further, organising demonstrations with bonfires, drawing hordes of teenagers to publicly burn their Beatles records and other memorabilia.
The Beatles left for their US tour on 11 August 1966. According to Lennon's wife, Cynthia, he was nervous and upset that he had made people angry simply by expressing his opinion. The Beatles attended a press conference in Chicago, Illinois; Lennon did not want to apologise but was advised by Epstein and Barrow that he should. Lennon quipped that "if I had said television was more popular than Jesus, I might have got away with it" but stressed that he was simply remarking on how other people viewed and popularised the band. He described his own belief in God by quoting the Bishop of Woolwich, saying, "… not as an old man in the sky. I believe that what people call God is something in all of us." Adamant that he was not comparing himself with Christ, he tried to explain the decline of Christianity in the UK. Pressed for an apology by a reporter, he said "if you want me to apologise, if that will make you happy, then OK, I'm sorry."  Journalists gave a sympathetic response, and told Lennon that the Bible Belt were "quite notorious for their Christian attitude."