Posted in: Friends & Neighbours, News | No Comments | Posted on December 3, 2021 by Mary Anne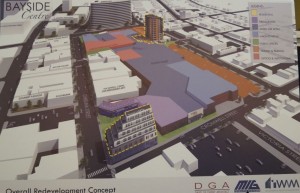 Did you hear the BIG NEWS?!  On Wednesday, December 4 we were invited, along with other downtown stakeholders (building owners & tenants) to see the vision the new owners have.  Wilsondale Assets Management have BIG PLANS for the area including a grocery store, senior living complex and loft condos.
 Below is the story reported on Blackburn radio.  Like Chris Norton, we are cautiously optimistic - emphasis on the optimistic.
About 200 stakeholders welcomed the new Bayside Centre owners Wednesday evening during a meet-and-greet at the Judith & Norman Alix Art Gallery.
Wilsondale Assets Management presented its redevelopment plans for the building, which include a multi-storey seniors housing complex, condos, a grocery store, market square, restaurants, a roof-top patio and more.
Curator and Director at the gallery Lisa Daniels says the Bayside Centre is the binding piece in revitalizing the downtown core.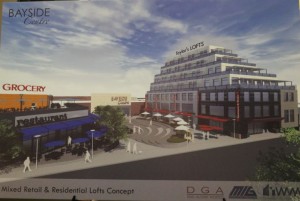 "Lots of people are moving and living downtown, but when you don't have a grocery store here or other major services, people get in their car and go elsewhere," says Daniels. "So this is going to bring an opportunity for people to not just stay downtown, but also to come downtown."
Downtown Co-owner of Norton Hairstyling, Lennox Athletix and On-Edge Fitness Christopher Norton says he is 'cautiously optimistic' about the changes, but believes it will ultimately benefit surrounding businesses.
He says it's great to see a company breathe life into the building.
"My family and I are really excited about everything that's happening down here. I just really want this to go forward and move the downtown into the direction that it's been going, and this is something that can definitely keep that going."
Norton hasn't had a chance yet to consult with the new owners, who recently purchased the Drawbridge Inn. He says he's heard many rumours, but remains optimistic that On-Edge Fitness, the family business of seven years, will not be affected in the development.
Wilsondale Assets Management closed the purchase of Bayside Centre October 8th and have also purchased five other downtown buildings.