Posted in: Entertainment NEWS, First Friday, Local Talent, News | No Comments | Posted on September 7, 2021 by Mary Anne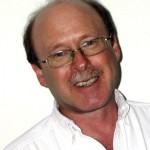 September First Friday at the Cheeky Monkey: Blackmore and Blackmore Show The Creative Way To Move Ahead And Release A CD
by Brian Hay
There are right and wrong ways to do everything. What Mike Blackmore did with his two instruments, a set of looping devices and a healthy influx of creative imagination was definitely an illustration of one of the right ways. Technological aids are frequently used to create shortcuts. That's one of the knocks against them. Another is the reputation they've acquired for stripping the music of its warmth. With Mike Blackmore there's no shortcuts. That, along with the imagination involved, and the fact that everything is put together live, insures the music carries the spontaneity and warmth of something that's been created on the spot. That's true of his live shows and of his new release, the CD 'Coyote'.
Mike doesn't use prerecorded tracks. Songs begin with whichever instrument fits his needs. Mostly, it's the guitar but the djembe drum takes the fore once in a while. From that point he builds the arrangements in layers. His percussion always has a basic backbeat and a fill or so in order to mark changes with a dramatic effect. The rhythm tracks have solid time signatures, generally a bit of ornamentation to spice them up and plenty of space for Mike to add lead playing. From there he plays (and sometimes sings) over top of the arrangement and uses the pedals to control how everything meshes together.
That's only what's on the surface though. When a track is being laid down he's invariably thinking about what hasn't been done that might work. Thousands of hours spent deepening an understanding of how the devices will respond provides the confidence needed to try those ideas. Much of what comes from there rolls off as if by magic. The capabilities of the tools offer yet more possibilities. One pedal gives the acoustic guitar the sound and feel of an electric hollow body. The wah-wah pedal he used provided what was, by far, the most convincing sound that I've ever heard from an acoustic guitar. As is the norm, he used the effect for what was needed to impress while leaving one drooling in anticipation of hearing more. His lead picking combined sensitivity and the same impeccable taste needed to make musical treasures of each moment.
Songs, his own and the covers he performs, got the same degree of reinvention. The arrangement for 'Sixteen Tons' by Merle Travis differed strikingly from versions he's played in the past. 'Georgia On My Mind' by Hoagy Carmichael and Bob Dylan's 'Knockin' On Heaven's Door' featured different arrangements along with a guest appearance by Missy Burgess. She sang harmonies on the two numbers and the sustain she gave to the close of "Heaven's Door" capped what was already joyous surprise beautifully. The fun they had looked as if it should be illegal, which brings things to their real point.
Music (and art in general) needs spontaneity to keep it vibrant. Few understand that more completely than Mike Blackmore. Touches are added to the songs each time and they play out with spontaneity that can't be replicated. Huge amounts of practice pay off nicely when an idea unfolds like a flower reaching its fullest bloom. The arrangement he did to 'Amazing Grace' to close the show provided one example of that. The encore, which featured a second run-through of 'House Of The Rising Sun' performed by request, featured another. That version kept the high points of the earlier rendition while carrying a few touches not shown the first time around.
It was a great show from a man who combines the best aspects of art with the ability to entertain.
Everything on 'Coyote' was laid down the same way arrangements come together at Mike's shows. 'Heads Up', which opens the set with a bit of percussion, moves into a sound that combines funk with bluegrass. 'Changeling' has aspects of jazz along with a few other influences. The title track has a stark sensibility that evokes imagery of that animal alone in a desert at night. 'Nowhere Blues' begins with a bluesy grinding that leads into lighter territory. 'Cactus Jam On Toast' and 'Myth' feature exquisite lead playing as does 'Mr. Bad Lucky'. That last song leans to blues but hints toward other areas. The set as a whole plays out as an array of surprises that touch different areas of thought with each hearing. The material is accessible and easy to connect with before settling in with something that stimulates the imagination in any number of ways. The recorded quality is crisp with clear separation between instruments. Natural sounds (such as the squeaks acoustic guitars make or the sense of strings being plucked) are distinct, as they should be. Everything about the CD feels live.
It's a good one.
FOR MORE PHOTOS FROM THE EVENING CLICK HERE
Blackmore & Blackmore - Coyote CD now available at Cheeky Monkey