Posted in: ADVENTURES OF CHEEKY CHARLIE, News | No Comments | Posted on February 19, 2022 by Mary Anne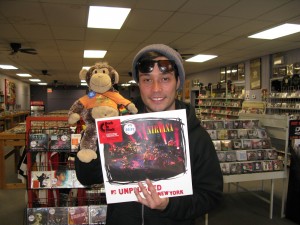 After purchasing  Nirvana Unplugged on vinyl, my customer, who's name is Martin Kenji,  told me he buys a new record as a good memory of each place he travels. That statement lead me to ask what he is in town for and where he is from.  He is here filming for a new investigative TV show to be aired in the near future.
Previous to this job, Martin did TV commercials for the likes of Tim Hortons. Needless to say, it is a big departure in subject matter and type of filming. His new line of work is heart wrenching and emotional but I am sure will touch many lives hopefully in a very positive way.
After our interesting conversation that ranged from the upcoming show to concerts we'd seen, I was a little hesitant to ask if I could take his picture with Cheeky Charlie.  Martin beamed a huge smile and said of course I could.  Charlie and I were happy to end our conversation with Martin on a light note.
We wish him and the producers much success with this project and will certainly watch for it to be telecast.  Keep on eye on our blog to find out more details when we are able to reveal them.