Posted in: What's New | No Comments | Posted on June 30, 2022 by Grumpy
David Gogo has done it again! As one of Canada's hardest working and most prolific blues virtuosos he has crafted a new album that only honours traditional but also gets you dancing with some good old gritty rock and roll.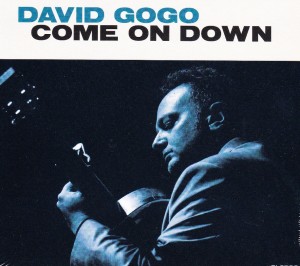 The aptly titles COME ON DOWN features twelve diverse tunes; six reinvented yet classic covers and six originals inspired by his recent pilgrimage along the BLUES TRAIL in Memphis, Mississippi and Alabama. Gogo has invited some seriously talented friends to join him on these songs including Rick May, David Vest, Shawn Hall. Billy Hicks and Tina Jones among others.
Come On Down takes you to a place where Robert Johnson meets The Rolling Stones and Fleetwood Mac meets Ray Charles. It's a wild ride that Gogo navigates effortlessly.