Posted in: Concerts & Events, First Friday, News | No Comments | Posted on December 7, 2021 by Mary Anne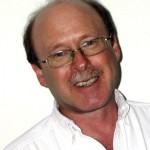 Prose And Song For December's Sarnia First Friday: John Gardiner and Karen Morand At The Cheeky Monkey
by Brian Hay
There's times when the Cheeky Monkey seems tailored to showcase the fact that some of the most interesting things in the world of music fall outside of the mainstream. With author John Gardiner reading from his collection, 'Memories For Sale — Tales From A Small Town', and musician Karen Morand performing between his narratives this was one of those times. Together, they illustrated the connection between literature and music in a way that showed how close that bond really is.
John Gardiner's prose is concise and to the point. Redundancies, run-on sentences and embellishments that would bog narratives down have been assiduously avoided. That spareness creates a directness that stimulates listeners to explore the layers surrounding the text whether they be listening or reading. His subjects resonate with the lives of anyone who's ever been caught in a snow storm, enjoyed a hockey game, revelled in the pleasure of sitting down with a good book or simply thought about what transpired over a single day. Respect for the mastery authors such as Hemingway, Wolfe, Steinbeck and other literary giants had for presenting thoughts with impeccable clarity has an obvious influence over his style and it's a facet that's entirely welcome.
Karen Morand can suspend an audience in the moment occupied by a song. A combination of range and delectable timbre along with exceptional technique and immaculate phrasing makes her presentation of her own material or covers stand in a space of their own where any who wish to visit are welcome. Her personal work is literate and serves as a window into what she thinks, feels and believes. Material by other writers becomes her own through reinvention that looks ahead while paying heed to the old. Every number she performed was engaging. The best of them (such as 'Carry On') had this writer completely transfixed.
Together they presented a combination that was eclectic and engaging. Gardiner's prose and poems touched emotions with pathos and humour. Bleak avenues, though present, invariably had glimmers of optimism at their root. The songs performed by Morand, while not directly related to the narratives Gardiner presented fit whatever they had been set to follow. John, a musician and bass player himself, imbued his reading with the musicality that had a tangible presence even when there were no notes to be be heard. Karen connected each note to the hearts of her audience. Combined, they created a unique homecoming for John. He was one of the musicians who had played at the Cheeky Monkey at the very first Sarnia First Friday several years ago and he enjoyed the return thoroughly.
It was quite the night, and one of a sort that would be welcome more often.
MA NOTE: John Gardiner's book of short stories "Memories For Sale: Tales From A Small Town" is available at Cheeky Monkey while supplies last
To view more photos from the evening taken by both Brian Hay & Rob McCrie  CLICK HERE