Posted in: Concerts & Events, First Friday, Local Talent, News | 1 Comment | Posted on September 8, 2021 by Mary Anne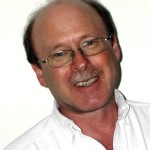 Erika and Sara and The Guys at The Lawrence House: Sarnia First Friday September 5, 2021 as reported & photographed by
BRIAN HAY
This band is tighter and more self-assured each time out. Seeing it in their playing is easy because it's showing in their individual skills and and in what they do collectively. Bass guitarist Scott Vegh has melody and timekeeping firmly in place and does so with a discreet tone that allows the rest of the band to sit evenly over top of the foundation he provides. Drummer Gerry Hawley has a looseness in his style that plays out with sharp, but unforced timekeeping, and generous, but unobtrusive acrobatics, that fit nicely in the pocket. Sara Campbell has the drive in her rhythm playing back to the fore and is providing a thrust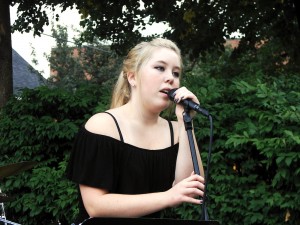 between the work of Gerry and Scott. She's doing more harmony singing as well and it creates sumptuous textures under the lead singing of Erika Sit.
Erika is making it seem as if audiences have only seen the beginnings of her talent. Her range is more impressive each time out and she has the expression in place to back it up. Pitch is never an issue — she literally has that to the point where it's impeccable. Her ability to hit and sustain notes with no visible strain and then to move on to something equally difficult shows mastery of breathing technique that comes only with an immense amount of hard work. Most important, she has the courage to step out of comfort zones knowing problems are only a wrong breath or a piece of lint away. That's the mark of a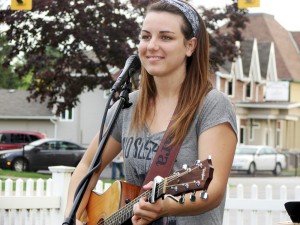 great singer.
This aspect came out in full when they did a cover of 'Sweet Child of Mine'. There's was an acoustic take that began quietly but was built to a guttural throb that emerged as resounding and penetrating howl. Erika nailed all of those passages for a crowd that reacted as if they'd seen her for the first time. It was something new on all levels. Their interpretation was a breath of fresh air that provided new ways of looking at the song. It was a change of pace for them that suggested new pathways while maintaining contact with the identity they've already established. This isn't their first adventurous choice. The intricacies of 'Hotel California' which they introduced to their sets early in the year marked new territory as well. With their song writing skills, eclectic choices of material and even more imaginative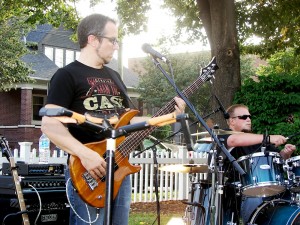 approaches to it there's a lot to look forward to from this group.
It's going to be an enjoyable and extremely interesting ride.