Posted in: Art, Concerts & Events, First Friday, Local Talent, News | No Comments | Posted on May 6, 2022 by Mary Anne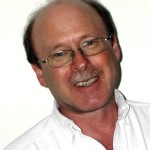 Evan & John: May 5th First Friday at the Cheeky Monkey
by Brian Hay
The harmony singing by the duo of John Pilat and Evan Dawe was great right from the start. Their vocal work on 'New York'  by the Milk Carton Kids was easily up to the standard of the recording released by the original group. The parts for their guitars and the ease with which they wove them together were exemplary and their interpretation carried some individual touches while remaining faithful to the original piece. That it rolled off them so effortlessly shows they put a lot of work into getting things right.
The reading given to Simon and Garfunkel's 'Mrs. Robinson' was an attention grabber of the best kind. Subtle weaving of guitar parts and brilliant harmony singing was again the dominant force in their delivery. Moving to 'Snake Eyes' by the Milk Carton Kids before playing 'Wednesday Morning 3:00 AM' and 'Homeward Bound' by Simon and Garfunkel established the notion the sets would be more far reaching and playing a pair Daniel Romano's songs solidified it. Their takes on 'Strange Faces' and 'I'm Gonna Teach You' were superb in the way they layered the flavour of a folk duet over the pure country feel reminiscent of Gram Parsons that's strong in Romano's arrangements.
The set of original pieces they played before closing the first set with 'The Boxer' by Simon and Garfunkel began with 'Early June' and moved through 'Untitled' and 'California' before ending with 'Townes'. John's music is wistful, filled with yearning and varied in what it explores. 'Untitled' (for instance) speaks of sinking into the most desolate abyss but avoids sentimentality and becomes an observation of life in general as a result. 'Townes' goes into other areas, adding the intimacy between individuals to the equation. 'Early June' seems to explore the concept of a single human looking at his or herself as part of the larger fabric.
Their second set began with more of John's original pieces. 'South Coast Highway', 'Syntax', 'False Impressions' and 'In The Morning' are all songs that explore aspects of life from John's unique and thoughtful perspective. And all of them are numbers that can be listened to time and again with intent to be thought about or simply as a backdrop while doing something else. They're engaging, stimulating and, above all, accessible; every one has an individualistic touch that exists without creativity being used to make its own statement. That there's often no gender identity in his work it adds to the abstracted feel it has.
A wonderful interpretation of 'Ash and Clay' by the Milk Carton Kids took the proceedings back to covers and a fine rendition of 'Simon and Garfunkel's 'Bleecker Street' carried their audience back to familiar territory that included held them rapt.  The remainder of the performance included a fine mix of familiar pieces such as 'Years Gone By', 'Old Friends and Bookends' by Simon and Garfunkel while taking inspired forays off the beaten path with numbers such as 'Sparrow'.  'The River' by Bruce Springsteen, which was a new piece for them, came across brilliantly. When they wrapped up with the iconic 'Sounds Of Silence' they provided an attentive audience with a send-off that offered the perfect expression of thanks for being a part of the evening.
The pair didn't seem entirely comfortable during the first half but that was mostly only noticeable in their rapport between songs — it certainly doesn't show on the playback. Their sets could also do with more sharp attention grabbers but that's a hurdle that could be transcended easily. Their choices of music are becoming more diverse and the quality of their musicianship is exemplary.
They're on the verge of greatness should they chose to embrace it.
MA NOTE:  This First Friday evening was also the opening night of a new art exhibit and sale called " BREATHING NEW LIFE" by local artists Bill Walters.
Over the course of the winter, while in the sunnier south, Bill was a busy man creating more stunning paintings while working on his tan.  In the 'plein air' style, Bill finds a picturesque spot, sets up his easel, paints and brushes to capture the beauty  in the great outdoors  - in the moment.  After long chats with two fellow painters, Bill re-evaluated his style and starting experimenting with more muted yet somehow brighter  colouring in his works.  It is a different method of blending and shading that brings a mellowness to each piece.  Not having an artistic bone in my body, I can only imagine how challenging and rewarding it must to take a new artistic path.  Speaking personally, I have always admired Bill's vibrant use of colour, but have to say I find a certain serenity in his new works.  Seeing the photos here  and on the link above really does not do them justice.  Please do yourself a favour and stop into Cheeky Monkey to see them for yourself.