Posted in: ADVENTURES OF CHEEKY CHARLIE, News | No Comments | Posted on August 24, 2021 by Mary Anne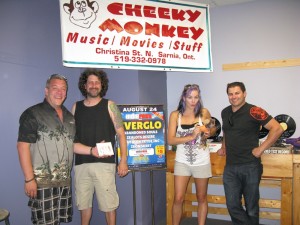 A very last minute surprise was planned for us at Cheeky Monkey by David Burrows, one of the organizers of IndieFest.  EverGlo, the headlining band for the all day event was in town early, so they, along with David, stopped by to meet, greet and shop.
Not only are EverGlo a very talented Toronto based rock band, but they are also smart business people that are very down to earth with a wicked sense of humour.  Our store mascot, Cheeky Charlie, in particular enjoyed the hi-jinx of Junior, Kat and Leo during their "photo session" together.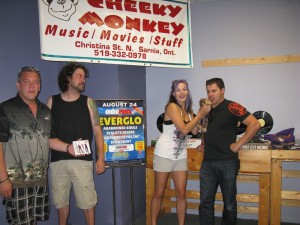 Here is a well worded description of the band and their music from their website… "There is no line of delineation between the audience and EverGlo. Masterful and explosive performances, littered with charisma. You can witness or participate, either way EverGlo will have their way with you."
If by chance you missed them at IndieFest held August 25th at The Stubborn Mule, don't worry.  They have assured us they WILL be returning to Sarnia again and will be making a point of stopping in to Cheeky Monkey with the intent of doing an acoustic set or 2 - and more shopping of course.
Be sure to watch for details on our website or even better, sign up for our weekly e-newsletter thru our website.  In the meantime, their CD 'RISE' is available to purchase at Cheeky Monkey or in the MUSIC BAZAAR of www.cheekymonkeysarnia.ca