Posted in: Magazine and Books, News | No Comments | Posted on February 25, 2022 by Mary Anne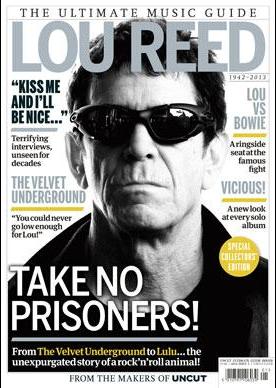 THE ULTIMATE MUSIC GUIDE From Uncut magazine - LOU REED …  After Lou Reed died on October 27 last year we began discussing how best we could commemorate the man and his tremendous body of work. The natural solution presented itself in the form of an Ultimate Music Guide.
Accordingly, the latest instalment in our series of Ultimate Music Guides gathers together a wealth of interviews with Reed from the archives of Melody Maker, NME and Uncut, as well as brand new, in depth reviews of all Reed's albums – from The Velvet Underground & Nico up to his final studio album, Lulu, his collaboration with Metallica.
In our earliest interview – from 1972 – Richard Williams finds Reed hard at work on his solo debut in – of all places – Willesden. After that, you'll find some hilarious and often revealing encounters with Reed. Regular readers of Uncut will enjoy re-reading Allan's various adventures with Lou down the years – scraps with Bowie included. But there's also some great vintage pieces from the likes of Charles Shaar Murray, Michael Watts and Chris Charlesworth and later interviews with Nick Johnstone and Gavin Martin taken from Uncut's own archives.
Just as importantly, the album reviews present a fresh overview to Reed's tremendous body of work. While it's great to be reacquainted with the more familiar albums like the Velvets records or Berlin or New York, the work done by our writers in reassessing Reed's back catalogue truffles out significant treasures in even his most overlooked or neglected records. Case in point: I had forgotten how good Hudson River Wind Meditations was. There's also a round up of Reed's compilations, live albums and miscellany – singles, collectables and guest appearances.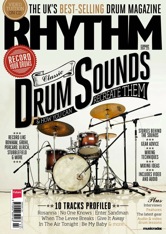 Best Selling DRUM MAGAZINE - RHYTHM with free instructional disc…
This month we pay tribute to some of the finest drum sounds ever recorded - and show you how to recreate them!
We're talking 'Give It Away', 'No One Knows', 'When The Levee Breaks', 'Rosanna' and more. Not only do we unpick the sound of each of the ten tracks featured (with the help of interviews with the artists and producers that recorded the originals!), we also show you how to achieve the sound for yourself in the studio, the gear you'll need, the environment you should record in, how to mix your drums and much more. Fire up the Rhythm disc (or check out the digital edition) and you'll find video and audio demonstrating the results of our sessions. Now there's no excuse not to sound like your heroes the next time you hit the studio.
INTERVIEWED
Sheila E
Clem Burke (Blondie)
Billy Rymer (Dillinger Escape Plan)
Sean Moore (Manic Street Preachers)
Mike Mangini (Dream Theater)
Plus: The latest part of our hybrid drumming series
REVIEWED
Odery Custom drum kit
Worldmax snare drums
Steven Slate software pack
Meinl Byzance cymbas
Nord Drum II
Tek Tuner
LEARN
Learn how to play Billy Joel's 'Uptown Girl', 'Stand!' by Sly and the Family Stone and Smashing Pumpkins' 'Bullet With Butterfly Wings.' Plus there's all of your favourite regular lessons from Pete Riley, Jason Bowld, Colin Woolway and more.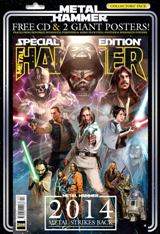 METAL HAMMER - SPECIAL EDITION - 2014 METAL STRIKES BACK - WITH FREE CD & POSTER…
The metal is strong in this one. Our immense 2014 preview has arrived and it is absolutely stacked with exclusive interviews, essential news and all the heaviest bands that will be rocking your world over the next 12 months.
We find out the truth behind the new Slayer album, find out why Iron Maiden's Sonisphere show might be their mightiest yet, gauge if we will finally see a new Metallica record and jump into the studio withMachine Head. Plus, we get all the latest news on new albums from Slipknot, While She Sleeps,Lamb Of God, Black Label Society, Bullet For My Valentine, Mastodon, Down, Opeth, Devin Townsend, Suicide Silence and many, many more! Get excited. It's going to be a big one.
Also in our new issue – which comes with FREE Steel Panther and Behemoth posters and a killer FREE CD featuring Behemoth, Skindred, Iced Earth and more – we find out if Skindred have finally produced the album that'll take them to the top of the mountain, get KISS legend Gene Simmons to give us his handy guide to surviving the music industry, celebrate the amazing return and UK-conquering rise of Within Temptation and get movie legend Danny Trejo to tell us why The Beatles remind him of prison.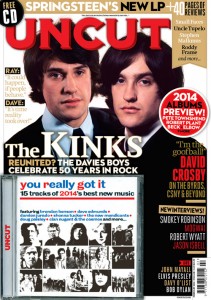 UNCUT with FREE CD: YOU REALLY GOT IT
15 tracks of 2014's best new music, featuring Brendan Benson, Dave Edmunds, Damien Jurado, Shonna Tucker, The New Mendicants, Doug Paisley, Cian Nugent & The Cosmos and more…
INSTANT KARMA! In our front section this month: Bob Dylan's 2013 tour anatomised, plus John Mayall, John Sinclair and Kraftwerk
FEATURES:  SMOKEY ROBINSON The Motown Miracle on The Beatles, Obama and golfing with Marvin Gaye
2014 ALBUMS PREVIEW:  Robert Plant, Beck, Elbow and more
Cover Feature - THE KINKS The Davies brothers on confrontations, troublesome rabbits and a reunion…
Also: ELVIS PRESLEY Cutting the King's country gems
ROBERT WYATT The making of "I'm A Believer"
DAVID CROSBY As he unveils a new album, Croz discusses CSN, Joni, The Byrds and drugs
MOGWAI The noisy Scots on their albums so far
JASON ISBELL The ex-Drive-By Trucker on marriage, sobriety and the stunning Southeastern
DAVY O'LIST The bizarre story of a prog mystery man… from The Nice to Roxy Music and beyond
NORMAN BLAKE His life in music…
REVIEWS SECTION
MUSIC
New Albums – including: Bruce Springsteen,
Stephen Malkmus, Broken Bells
The Archive – including: Jackson C Frank, the
Small Faces, Mark Lanegan
Film & DVD
Eric Clapton, Metallica, Muse, Toast
Of London, Inside Llewyn Davis
LIVEATP End Of An Era Pt 2, Roddy Frame, Bert Jansch: A Celebration
BOOKS
Alan McGee, Jimi Hendrix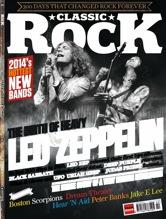 In Classic Rock February Issue 193
1969 and The Birth Of Heavy: in 300 shape-shifting days in 1969, Led Zeppelin released their first two albums, Gillan and Glover joined Deep Purple, UFO, Uriah Heep and Judas Priest formed, and Black Sabbath recorded their debut album. All of which changed the course of rock. Read the story from the people who were there. Ones To Watch In 2014: including Beastmilk, Cage The Gods, White Denim and more.
Boston: bandleader and controversial visionary Tom Scholz  gives his most revealing interview ever. Peter Banks: some musicians' contributions to the development of rock have largely been forgotten and their passing unmarked or, worse, unnoticed. Yes's original guitarist is one of them. Jess Roden: a contemporary of Robert Plant and Steve Winwood, this virtually unknown blues/soul/rock singer is the Midlands' best-kept secret. Dream Theater: As terminally uncool as they are devotedly admired, DT tell of the travails of taking prog into the modern world. And what about that Hear N' Aid malarkey back in 1985: when the hard-rock community muscled in on the charity-single bandwagon. Cue a heavyweight cast, guitar battles and arguments over… who had the biggest hair. What?! Believe it.
In the biggest rock reviews section on the planet we look at new albums from Bruce Springsteen, Rory Gallagher, Steven Wilson, Neil Young, Rush, Black Oak Arkansa… reissues from Ramones, Deep Purple, Marillion, Cinderella, Sparks, Humble Pie, Ry Cooder… DVDs, films and books on Rush, Status Quo, The Beatles, Roger Waters… and bring you live reviews of Hard Rock Hell, Queens Of The Stone Age, Blackberry Smoke… We also have live previews of Family, Savatage and Quireboys,
We've also got the story behind Scorpions', a Q&A with Sheryl Crow, a buyer's guide to Ronnie Montrose, Genesis man Mike Rutherford talking about plans to re-form the band with Peter Gabriel and being uncool, and… oh, loaaaaaaads more!