Posted in: Concerts & Events, First Friday, Local Talent, News | No Comments | Posted on August 12, 2021 by Mary Anne
September 4, 2021 - September 4, 2021
Cheeky Monkey
Description: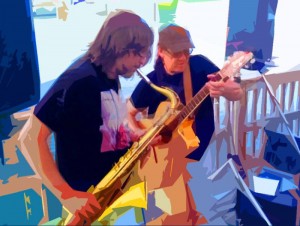 September First Friday at Cheeky Monkey, Sarnia's downtown music and more store, is a great place to celebrate the last weekend before school goes back.
The musical entertainment for the evening will be provided by Mike Blackmore Group from 7:00 to 9:00 p.m. As well, visual artist Nichols Theorat will be on hand to discuss his Exhibit and Sale of eclectic and varied work.
It is hard to say just who may be joining Mike for the evening of music. Mike has been playing in the area for quite a while and has amassed many talented fellow musicians in his circle who love playing, like Mike, simply for the joy of it. Having said that, they don't horse around (much). Each and every one is a well accomplished musician.
Over the summer, at the many gigs Mike has performed at, a constant accompanist has been saxophonist extraordinaire, Chris Molyneaux. Once again, the plan is to have him play with Mike for the September First Friday.
Local music enthusiasts and reviewer, Brian Hay has this to say about their chemistry… "The connection these two have is one that's become a wonderfully intuitive partnership. The open-ended bluesy jazz/reggae improvisational take Mike brings to originals and covers keeps them as fresh as the day they were written. The percussive force in his playing is countered nicely with lead ornamentation and works in perfect balance with what Chris brings to the floor. They read each other's signals reflexively and spur of the moment changes only serve to spice things up."
Brian goes further to say, "Chris especially, seems like a kid who'd been turned loose in a candy store and guaranteed not to have a sugar overdose. His solos are, imaginative and focused directly on the source material, yet restrained enough to keep his rapport with Mike balanced. He plainly enjoys every moment,"
Each performance Mike gives is like a gift - a gift of music - that is always different and delightful to receive.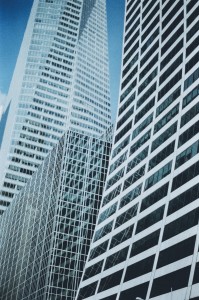 Gracing the walls surrounding the musicians will be the art of local artist Nicholas Theoret . He is currently completing his Bachelor of Arts degree, focusing in Studio Art and Art History at the University of Guelph.
Nicholas's interests for travel and adventure are what drive his passion for photography. His work ranges from lifestyle portraiture to scenic landscapes from all over the world.
When he is not developing film or scrolling through memory cards, Nicholas has also shown an interest in painting, sculpture, videography and design. He is always looking forward to his next project, new clients, and collaborating with other artists.
For his Show & Sale at Cheeky Monkey he will have a combination of photographs, paintings, and a stack of zines. You will be able to enjoy his work on display at Cheeky Monkey, 130 Christina Street N until October 31.