Posted in: Art, Entertainment NEWS, News | No Comments | Posted on December 31, 2021 by Mary Anne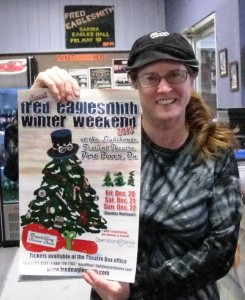 TUESDAY December 31, 2021 … what a great way to end 2013.  Loyal Fred Eaglesmith fan, Julie Wilbur stopped in to pick up her winning auction item of a 'Fred Eaglesmith Winter Festival' poster.   Julie's winning bid of $50.00 is being donated to Operation Smile - the same charity Fred & band raises money for at every one of their shows by holding pie auctions.
MONDAY DECEMBER 23 UPDATE…  The silent auction for the charity Operation Smile is now over.   CONGRATULATIONS and a big THANK YOU go to the winning bidder - Julie W. with the high bid of $50.00
THURSDAY DECEMBER 19 UPDATE... Just got in a bid of $50.00 - woohooo!
TUESDAY DECEMBER 17 UPDATE… Newest bid is $45.00 - Auction ends Dec. 22 - so get your bid in soon.
SATURDAY DECEMBER 14 UPDATE… new high bid is $40.  I am so pleased to see these bids - Operation Smile is a good cause and that is where the money will be going.
FRIDAY DECEMBER 13 UPDATE … Friday the 13th is lucky in my book!  Newest bid is now at $35.00 - keep em coming everyone - it is for a very good cause.
 WEDNESDAY DECEMBER 11 UPDATE… We have a bidding war on - current high bid from Julie W. is $25.  All for a good cause, so keep those bids coming!
TUESDAY DECEMBER 10 UPDATE…  Current bid for this collectable Fred Eaglesmith event poster is now at $10.00.  Remember winning bids money will be donated to Operation Smile, so please be generous.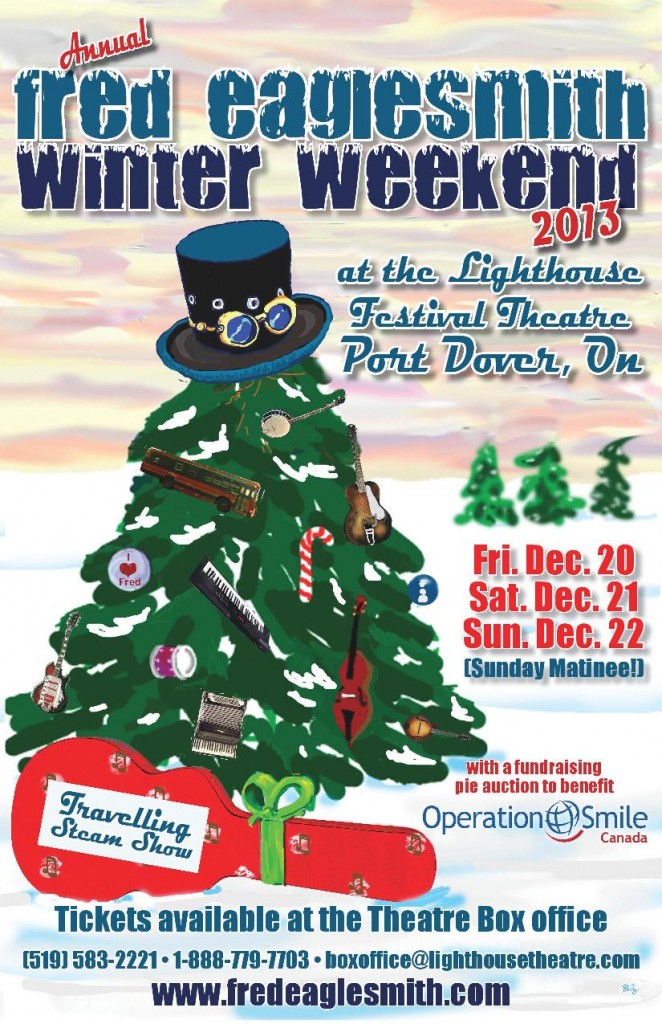 Recently, Mike Zinger, member of Fred Eaglesmith Travelling Steam Show stopped in with a poster for Fred's  "ANNUAL WINTER WEEKEND" at the Lighthouse Theatre in Port Dover on Dec. 20, 21 7 22.
Mike was kind enough to leave us a 2nd poster to auction off for charity.  Fred and his band raise money EVERY concert for Operation Smile by having pie auctions. Yup you read right - pie auction!  You would not believe how much money has been raised by the band for the worthwhile cause of helping pay for necessary dental surgery on disadvantage children in impoverished countries.  CLICK HERE for info on Operation Smile. We are now taking bids for this silent auction.  Call 519-332-0978, email [email protected] or stop in to make your bid.
Besides touring almost none stop, Fred and his band of merry musians, host several festivals in his home area of Port Dover, including a summer Picnic and this Winter Weekend.  We are big fans of Fred Eaglesmith over the decades, but do not feel we can call ourselves true 'Fred Heads' since we have only seen him play live 3 times, but we do own almost every CD.
The newest release is called Tambourine.  It is another amazing addition to our personal collection.  Pick up yours when you stop into Cheeky Monkey to make your bid on the poster.
FRED EAGLESMITH - TAMBOURINE - review…
All your broken Tambourines
And shattered dreams
And quiet screams
We'll just leave them with the band
Take my hand
We'll just dance
The heart of rock and roll is alive and well with Fred Eaglesmith's 20th album, Tambourine. Fusing together all of Fred's past influences, the result is pure rock 'n 'roll reminiscent of 1966.
Eaglesmith is a veteran of the music industry and at the same time is about as far away from actually participating in today's music industry as one could be. Never operating within anyone's boundaries, he continues to set the standard for independent artists everywhere. While blazing his own often colourful path he has avoided most of the traps and pitfalls of his peers, his career reads like a manual on how to succeed in music today without trying to fit into the traditional business models.
Tambourine was recorded live off the floor using an eight-track analogue console capturing the entire band playing together in the same room. Created during a month long session in an old hall in the hamlet of Vittoria, Ontario, Fred consciously stayed far away from anything that is popular in the mainstream music right now. The result a combination of Eaglesmith's craftsmanship in songwriting and a fusion of rock 'n' roll circa 1966, Motown, and even Tejano influences. Never one to shy away from taking chances with his music and career direction, Tambourine is no exception.