Posted in: What's New | No Comments | Posted on September 10, 2021 by Grumpy
Gloria's sultry voice perfectly embraces some of the most recognizable and beloved songs from musical eras that span decades.
The album also features collaborations with world class, award-winning artists like singer-songwriter Laura Pausini, violinist Joshua Bell and saxophonist Dave Koz.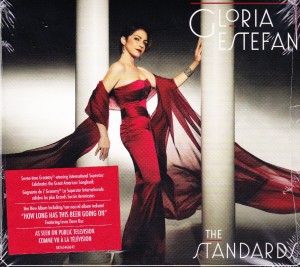 The Standards is co-produced by Grammy nominated pianist, producer/arranger Shelly Berg (Patti Austen, Elliot Smith and Arturo Sandoval), along with her husband, 19-time Grammy Award-winning producer Emilio Estefan.
She recorded the 13 songs live in the studio with orchestra.
Estefan approached these standards with fresh ideas. "They Can't Take That Away From Me" has an Afro-Cuban meets the waltz feel, for Antonio Carlos Jobim's Brazilian classic "Eu Sei Que Vou Te Amar" she composed English lyrics for the first-ever English version, "It's You I'll Always Love," and also recorded it in Spanish and French.
Argentinean idol Carlos Gardel's "El Dia Que Me Quieras," for which Estefan wrote the first-ever English translation ("The Day You Say You Love Me"), has a very special significance. "It was the wedding song that Emilio and I danced to!" relates Estefan.