Posted in: Concerts & Events, News | No Comments | Posted on October 19, 2021 by Mary Anne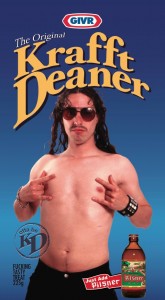 Thursday October 15, 2021 was a wigged out day.  THE DEANER, star of the mockumentary FUBAR was due to stop into Cheeky Monkey before his show later the same day at Rustic.  He was due at 4 pm along with the metal band he is touring with NIGHTSEEKER.  At 4:10 the fans waiting for him were getting a little nervous he was not showing up.  Turns out he was at Blackburn Radio doing a live interview on K106 & was running a little late.
Once he and the band arrived the fun began.  Posing for pictures, handing out boxes of Kraftt Deaner, signing autographs and generally just being THE DEANER for the hours plus he was here at Cheeky Monkey.  He and his guitarist did a song giving an acoustic preview of the fun to come at The Rustic a few hours later.  Have to say, The Deaner is an equal opportunity joker  - got me good with a zinger.  Just for the record, I am not old enough to have hung out with Sir Wilfred Laurier!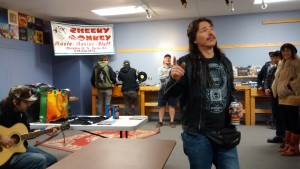 Thanks very much to Stuart Manchee for including hus in Deaner and Nightseekers visit to Sarnia.
CLICK HERE for more photos of his time at Cheeky Monkey