Posted in: What's New | No Comments | Posted on May 16, 2022 by Grumpy
New Live Album Spanning The Legendary Guitarist's Vast and Varied Career,Along With Two New Studio Tracks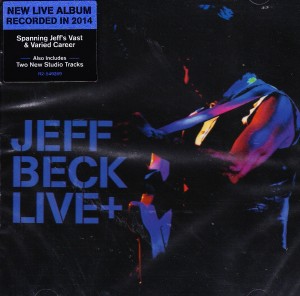 Jeff Beck earned raves last year for his spellbinding performances during the hugely successful double-bill tour with ZZ TOP. Fans can relive Beck's thrilling guitar gymnastics from those shows with a new live album that touches on key eras from the legendary artist's influential career. The album captures a snapshot of Jeff's work in 2014, with two newly recorded studio tracks also included, his first new music since 2010's Grammy®-winning Emotion & Commotion.
The album will arrive as Beck is in the midst of an East Coast US solo tour, which will include newly added dates in May. This trek also features make-up dates from the same ZZ TOP tour this album was recorded during, before it was cut short due to an injury to ZZ TOP bassist Dusty Hill.
The 14 live performances on JEFF BECK LIVE feature Beck backed by his band: vocalist Jimmy Hall, bassist Rhonda Smith, drummer Jonathan Joseph and guitarist Nicolas Meier. The quintet explored Beck's vast catalog—which stretches across five decades—with performances of "Morning Dew" (from Truth, 1968), "Superstition" (from Beck, Bogert, Appice, 1973), "Big Block" (from Jeff Beck's Guitar Shop, 1989), as well as two Grammy-winning tracks: his cover of the Beatles' "A Day In The Life" and "Hammerhead." LIVE + concludes with two new studio tracks, ("Tribal" and "My Tiled White Floor") marking Beck's first new studio recordings since 2010.
Throughout his career, Beck has also proven to be a brilliant interpreter of other's songs. This live album doesn't disappoint with covers of "Danny Boy," Jimi Hendrix's "Little Wing," Mahavishnu Orchestra's "You Know You Know," and Sam Cooke's "A Change Is Gonna Come."