Posted in: What's New | No Comments | Posted on June 4, 2022 by Grumpy
A conceptual follow-up to his JUNO-award winning triple record, Three, 44 is a visionary project comprised of four, 11-song records, packaged together and connected thematically.
Four years in the making, the songs were recorded in Dartmouth, Memphis, Nashville and Toronto with 33 different musicians.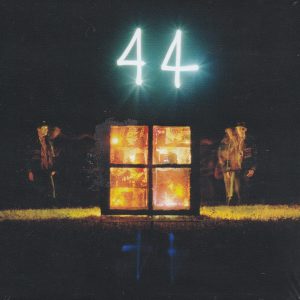 The first album, 41: Carried Away, is a traveling record. It starts in Memphis with the song Collusion, old memories colliding with the present and the journey begins. The second album, 42: Just Passing Through, playfully evokes the feeling of returning home to an unfamiliar landscape, while, 43: If There's Another Road, is an introspective, nighttime transition from lost to found. The fourth and final album, 44: The Window Inn, documents the arrival at a personal destination, summed up in the last song, "A Benefit 4 Dreamland."
The artwork for 44 reflects the same creativity and attention to detail apparent in all of Joel's music.
The four individual album covers fit together to form a single photograph shot through a fourpane window.
Lead single "Head Over Heels Into Heaven" was quickly added into SiriusXM's North Americana, CBC Radio 3 and CBC Music and featured on Spotify's Indie All Stars and New Music Friday, Apple Music's New Music Daily and Breaking Rock and Amazon Music's Fresh Folk & Acoustic.
44 is Joel Plaskett's most ambitious and imaginative endeavor to date. It is a project that will reveal itself over time, its scale and intention standing in sharp contrast to the fast paced, short-form digital world we navigate daily.