Posted in: What's New | No Comments | Posted on December 4, 2021 by Grumpy
Previously commercially available only as a DVD (released in 2006), the audio portion of Johnny Cash's Man In Black: Live in Denmark 1971 can finally be enjoyed by connoisseurs for the first time as a full-length album.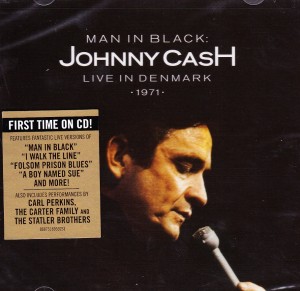 American musical icon Johnny Cash was at a career highpoint and in the middle of a successful tour of Scandinavia in 1971 when he was asked to star in his own concert special for Danish television. Recorded before a live audience on a Danish TV sound stage, Man In Black: Live in Denmark 1971 captures the essence of a Johnny Cash show of the era, showcasing performances with his touring companions- the Tennessee Three (his backup band) June Carter Cash, the Carter Family, Carl Perkins, and the Statler Brothers.