Posted in: First Friday, Local Talent, News, Reviews | 1 Comment | Posted on July 5, 2022 by Mary Anne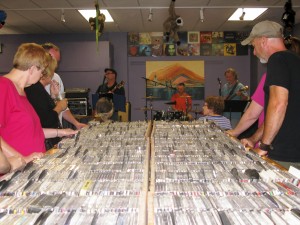 There was definitely a festive summer vibe in the air during the July 4th First Friday at Cheeky Monkey.  The fact that is was perfect weather enhanced the dance-able music provided by THE DRIFT.  Below is a review written by customer and music aficionado, Brian Hay.  The first time Brian heard The Drift was during ArtWalk when we hosted several local bands outside the front of Cheeky Monkey.  The Drift being a relatively 'new' band of 3 seasoned musicians, Brian notes the changes he noticed between June and July's performances.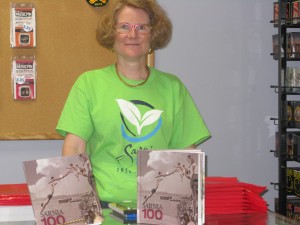 Also adding to the nights high spirits was the smiling, friendly face of Alison Mahon here selling the  "SARNIA 100 YEARS" books.   This is a gorgeous book commemorating Sarnia's 100th anniversary, researched and written by the History Committee, a sub-committee of the Sarnia Centennial Celebration Committee.  The book includes more than 120 striking historical images of the city as well as a message from Sarnia's own Chris Hadfield.  The design and printing of the book were made possible by an Ontario Trillium grant with proceeds going towards sustaining the Community Round Table.  If you haven't bought your own copy yet, it is available at The Book Keeper and City Hall while supplies last.
To view more photos CLICK HERE
First Friday at The Cheeky Monkey: The Drift
Saturday July 5, 2022
by Brian Hay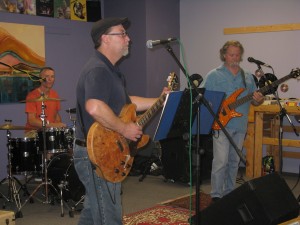 I heard the difference as soon as I walked in the door. The playing had a sense of assurance and the vocals were muffled slightly, but obviously, a lot stronger than before. Lead singer and guitarist Wes Beveridge made a quick adjustment to the volume and the difference was like night opposite day. The question then, was how much rehearsal time they'd had since the gig at Artwalk. It turns out the answer was "not much". The PA backing them was completely different though.
It's true that only a poor musician blames their instrument. Getting hold of Randy Bachman's guitar isn't going to make any magic happen unless the brain and fingers already know what to do. Being able to hear what each other are doing is another matter. Last time out The Drift made do with borrowed equipment with the monitor for one side missing.  Wes Beveridge got a distorted view of his own voice and couldn't hear what was coming from the other side of the platform. Bassist Ron Webber, who works around hearing loss to begin with, had no monitor close by and couldn't hear what Wes was singing well enough to match his vocals to it. It didn't prevent them from being solid musically though — their cues were still handled well.
With their own equipment and placing a speaker close to Ron the musical strength shown at Artwalk was enhanced and the problematic areas were diminished greatly. Ron Webber laid down strong bass lines and filled in the harmonics when Wes Beveridge stepped into straight rhythm playing. Drummer Paul Eastman's work was economical for the most but clearly enjoyed stepping up with some acrobatics when the chances came. Wes Beveridge used a variety of tones to good effect while playing and singing with an authoritative presence. Between sets he mentioned that Randy Bachman is his guitar guy and it showed in the role that he gave to the instrument. His rhythm playing fills the middle nicely. His solos are fluid but backed off just as the listener's ears are teased and wanting more. That's a tasty thing to do and also, right out of Bachman's book, as is the pronounced chop that jumps in to remind everyone that rock music is edgy stuff.
Their harmony work was a lot stronger but still not quite perfect. With songs they've played together several times Beveridge and Webber meshed well. At their best the harmony passages were impeccable. Their weak moments happened on the material they hadn't had much chance to work on but knowing the background makes it hard to find fault. They all have day jobs and a crisis at Paul Eastman's workplace made him unavailable for practices and has forced him to step out of the band. They played twice as much music this time as at Artwalk and added five songs they'd only had one opportunity to practice at all. One of them, 'The Last Kiss', was one of the high points of the evening. The harmonies came apart briefly in the middle of the piece but they transcended that by framing things with a confident introduction and a strong finish.
When they wrapped up a pair of sets that covered territory from the '50's to the '90's with a gritty performance of 'The Weight' it closed an evening of solid cover work that had their stamp on the material while respecting the integrity of the original works. Their arrangement of 'The Weight' (for instance) allowed Paul Eastman to pick up the melodic line between the vocal passages and he played it with the zest of a guy who had to wait all night to do so. With him leaving it's hard to say where things will go next. According to Wes nothing will happen soon unless they find a well seasoned drummer and they're right in taking that stance. This band has the chemistry born of experience and a sound that's distinctive. He and Ron know what they want and will work to bring it about.
One thing that's not likely to change though, is the name, if you catch the Drift.=