Posted in: Concerts & Events, First Friday, News | No Comments | Posted on March 7, 2022 by Mary Anne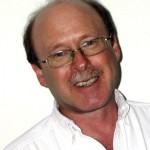 Powerful Set From a Strong Band: Big Highway at the Cheeky Monkey for Sarnia First Friday March 2020
by Brian Hay
The energy that Big Highway projected throughout their set last night was the work of a band that's strong in all areas. Frontman James McNaule has excellent control of his voice and also contributes strong rhythm playing that reinforces their musical foundation. Drummer Ric Brown provides timekeeping that's solid and provides dramatic markings for their musical shifts. Up front, lead guitarist Andrew Germain combines strong rhythm playing with lead playing that's delivered with impeccable restraint. Bassist Dave Johnston is their Rock of Gibraltar and the importance of his role in their scheme of things can't be overstated.
James, Ric and Andrew all have points where the main focus falls on them. Brown steps out of the pocket with flourishes that are thrilling. Andrew keeps his solos short but his imaginative concepts and fluid delivery keeps listeners wishing for more. James lends poignancy the periods where there's very little accompaniment and soars through or above the group when they go full out. Behind them, Dave keeps things locked down so the others can wander. He and James combine on the rhythmic foundation when Ric and Germain deliver delicious tidbits of lead work. McNaule has superb timing and a great sense of exactly what to come back in from the interludes with. Behind them Dave ties together superbly and their reentries from solos often feel like the passing of a comet.
Their mix of mostly Canadian material included numbers by Matt Mays, Wide Mouth Mason, and a lot from the Tragically Hip. The last is fitting as their rhythm work draws much of its inspiration from there. It's far from the only influence though. Elements from Black Sabbath showed up when Dave and Andrew combined on that part of their work. Unexpected fills that Ric pulled off brought to mind Keith Moon with the Who and also things the Stones did when keyboard man Billy Preston and percussionist Ollie Brown were along on the 1975 tour. (Check out 'All Down The Line' from 'Live at the L.A. Forum' — the panache supplied by [Charlie] Watts and Brown explodes with the force of a tidal wave). Things that create moments like that never go out of style and we should all be thankful for it.
Big Highway conjured up several of those instances last night and they did it with a stamp that's entirely their own. Hats go off to them for playing music in ways that captivated the imagination.
To view more photos from the evening taken by Brian, please CLICK HERE