Posted in: Concerts & Events, Friends & Neighbours, News | 1 Comment | Posted on September 12, 2021 by Mary Anne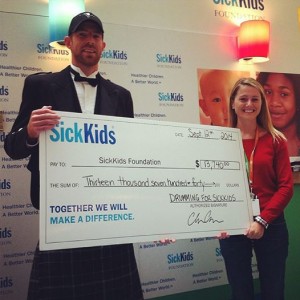 Friday September 12, 2014…
Final words from Chris Gormley via email to us and our generous customers …
That's a wrap folks!!! 'Drum4SickKids' 2014 is OFFICIALLY finished!!
We marched 150km this summer and raised $13,740 for SickKids Hospital.
Thank you for being part of this adventure. It would not have been
successful without your donations!!
Chris <3
Saturday August 30, 2014… Fundraising goal beat!!  Chris Gormley of Daylight for Deadeyes Drumming For Sick Kids goal of raising $10,000 has been met and beaten thanks to help from our generous customers buying during our poster sale.  In total, $308.00 was the donation from Cheeky Monkey customers.  Thank you one and all on our and Chris' behalf!
SATURDAY AUGUST 16… REMINDER - Cheeky Monkey POSTER SALE to raise funds for Chris Gormley`s DRUMMING FOR SICK KIDS campaign, is continuing until AUGUST 30th.   Great way to decorate a room!! Especially dorm rooms!!!
100's of promotional music posters from our many kind suppliers on sale NOW to raise funds for Chris Gormley's (of Daylight For Deadeyes) Drumming For Sick Kids campaign - raising awareness and funds for Sick Childrens Hospital Toronto.
Minimum donation requested
$2.00 for small size
$5.00 for medium & large size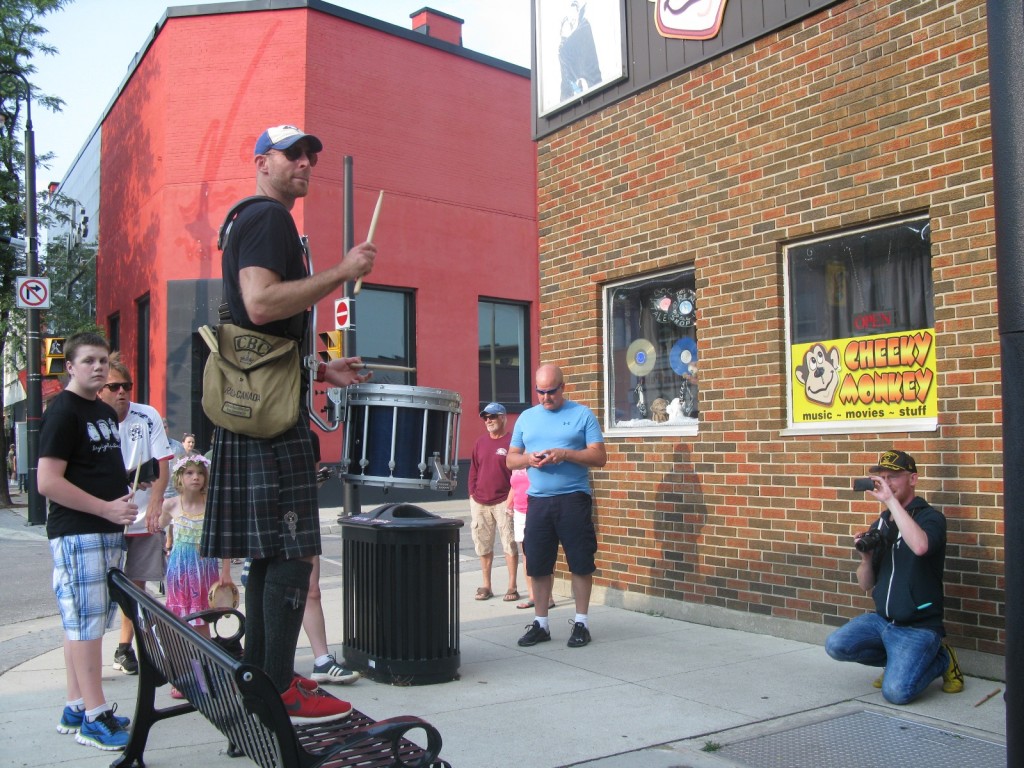 SATURDAY AUGUST 2, 2014… Chris and his entourage of merry drummers arrived as scheduled at Cheeky Monkey during the evening of August 1st First Friday.  Dressed in his traditional kilt and sporting his specially designed harnessed drum, Chris stood outside the store on the bench making it hard to miss him, let alone not be able to hear him!  The crowd loved it.  Even better was when Chris came inside and joined in with Mike Blackmore, Chris Molyneaux and Dan Martin for a rockin version of House of the Rising Sun.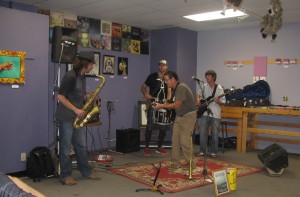 Thanks to our generous customers, our in-store poster sale has raided $158.00 to date for this very worthy cause.  It has been so successful, we have decided to extend the sale until the end of August.  So stop in, pick out some great music posters to decorate your walls and know you are helping Chris get to his goal of $10,000.00 for Sick Kids Hospital in Toronto.
REMINDER - if you can't make it into Cheeky Monkey for the poster sale, or to donate, go to the link below to donate on line.  Thank you!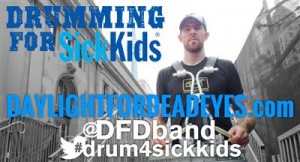 WEDNESDAY JULY 23 UPDATE… CHEEKY MONKEY OFFICIAL MEDIA RELEASE… 
Drummer Chirs Gormley of the Toronto band Daylight for Deadeyes, is coming to Sarnia August 1 during the evening of First Friday banging his drum loudly to raise awareness and funds for SickKidsHospital.
Last winter, when the band played for a group of children at the hospital's in facility theatre, Chris was inspired by the kids as well as the doctors and nurses who take care of them.
"I didn't quite know the severity of the conditions of some of the kids in the hospital," said Gormley, 37. "I figured why not raise money for these kids who can't go out on the street and bang a drum if they felt like it."
At 6 feet 5 inches tall and usually wearing a kilt, it is hard to miss Chris as he walks with his  rigged up drum cinched around his waist as part of his Drumming for SickKids campaign. The goal is to raise $10,000 for the hospital while also increasing awareness about the facility and the wonderful care they give.  In each city Daylight For Deadeyes plays this summer, as well as each Saturday on the Toronto streets, Chris can be spotted drumming towards his goal.
"Most people seem to really like it, they're dancing to the drumming and clapping their hands," said Gormley, who added that people like to tag along when he's out on the road and march with him.  He loves and encourages people  to join him with or without their own percussion instrument.
On Friday August 1 around 6:20 p.m., Chris will start out from Paddy Flaherty's Irish Pub on Seaway Road, where the band will be playing later that night.  He will be marching and drumming along the riverfront and into the downtown towards his destination of Cheeky Monkey at 130 Christina Street North.
To aid in reaching his $10,000 goal, Cheeky Monkey is holding a poster sale with all the proceeds going to Chris' cause.  Over the years, the promotional posters the record companies provide have built up into a large selection of all kinds of bands such as Queens of the Stone Age, Black Sabbath, Pixies, David Gray and hundreds of others.   A minimum donation of $2.00 each is requested.  The poster sale will run until the end of August.
For those interested in donating at any time, you can visit sickkidsfoundation.com/skf-blog/2014/06/drumming-for-sickkids or can hit up the band's Facebook page facebook.com/DaylightForDeadeyes for more information.  The campaign can also be followed on Twitter under the hashtag #drum4sickkids.
SATURDAY JULY 5 UPDATE - to aid Chris in his fundraising efforts, we will be having a POSTER SALE during the entire month of JULY.  The posters we have accumulated over the last few years will be on sale for $2 each with all the money raised going towards Sick Kids Hospital.  When Chris comes drumming here on August 1st, we hope to have a tidy sum to add to his total raised.   Check out the table at the back of Cheeky Monkey for the large selection of promotional posters the record companies have kindly given us.
WEDNESDAY JULY 3, 2022 UPDATE…
Drumming for SickKids
Date: Friday, Jun 20, 2022
GUEST BLOG – Madeline Salerno, SickKids Foundation Co-op Student, Communications
It's not every day you see a man drumming down the streets of downtown Toronto in a kilt and Toronto Blue Jays jersey. But that's the kind of guy Chris Gormley is – he stands out, and for a good cause too.
As a natural musician, Chris feeds off his audience's response. Last summer he experimented by walking while drumming down the street, entertaining passersby.  The reactions were incredible and Chris wanted to continue. He thought, why just drum when I can drum with a purpose?
With the idea in the back of his mind, he worked hard with his band, Daylight for Deadeyes, throughout the winter months. They landed a gig with SickKids and had more than 20 patients dancing and clapping along to their tunes. Chris felt an immediate connection with the hospital as well as the nurses and patients he met that afternoon. He easily relates and bonds well with children as a music teacher. That day, Chris knew he wasn't finished helping.
He launched his campaign, Drumming for SickKids, last month and gained quite the attention. After a hometown five kilometre kick-off in Mississauga he headed straight to the Big Apple with Porter's sponsorship. He marched ten kilometres in the downtown core with a go-pro camera to document his adventure.
This summer, Chris is planning to make a name for himself in downtown Toronto and around southern Ontario. Every Saturday afternoon until the end of August he will walk and drum in different locations to raise awareness and funds for SickKids. This past Saturday, Chris walked seven kilometres in downtown Toronto, receiving many double takes from passersby. He was suited up to represent his roots, Canada and Scotland, in a custom-made Toronto Blue Jays jersey, with 'SickKids' stamped on the back as well as a kilt from his sponsor, William Glen & Sons.
His solo routine is quickly gathering followers. To Chris' surprise, people joined him for a portion of his walk last weekend and he hopes to accumulate a strong following by the end of the summer. Many of his biggest fans, Chris' students, will be joining him on his walks throughout the season.
To find out where Chris will be in the weeks to come, follow him on Facebook and Twitter.
Donations to Chris' Drumming for SickKids campaign can be made through his online donation page.
Thank you Chris for being a #SickKidsHero! We wish you the best of luck in your fundraising adventure this summer.
MONDAY JUNE 30, 2022 - Chris Gormley on drums in Daylight for Deadeyes playing our favourite version of O CANADA.
MONDAY JUNE 2, 2022 -  This is an email I received on May 31st…
Hey Mary Anne. It's Chris from Daylight for Deadeyes. Hope things are good.
This summer I'm doing a BIG fundraiser with Sick Kids Hospital. It's called 'Drumming for SickKids'! I'm marching all over southern Ontario to raise money for SickKids. Here's my Official Link: CLICK HERE
On the weekend of August 1st/2nd i'm planning a march in Sarnia. Paddy Flaherty's and K106.3 are on board and supporting me. I'd love to have Cheeky Monkey involved too!!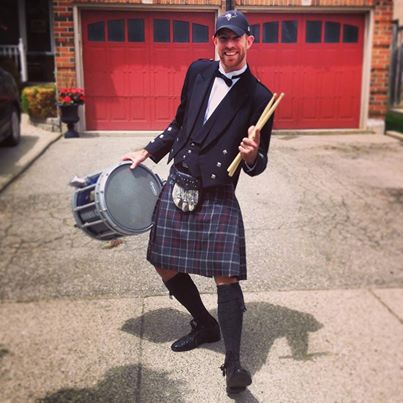 What do you think my reply was - OF COURSE I SAID YES - we would love to be involved!  Not only is this an uniquely brilliant and ambitious fundraising idea, but it comes from the drummer of one of our favourite out of town indie bands!  What Chris couldn't know when he asked to include us, is that we have a personal connection to Sick Kids Hospital - well Roland does.  At age 6 his family was living in Toronto and Roland had a traumatic accident that caused him to be a patient of this wonderful institution for a very long period of his young life.  Therefore we, and we hope you, are more then willing to help raise funds for them to be able to continue their fine care of injured and seriously ill children.
We are still working out all the details with Chris especially since I realized August 1st is a First Friday!  Please check back here for details as I have them.  In the meantime, you are welcome to go to the link above to make a donation, or stop into Cheeky Monkey to make a donation of any size.  Until Chris' "offical" drumming here, the funds deposited into our front counter donation can (Buzz Lighteryear talking bank) will be designated to this cause.
Thank you Chris for doing this - and an advance thank you to all those who kindly make a donation.
SATURDAY JUNE 14 - Chris posted on Facebook he was interviewed by CTV & to watch for him on TV.