Posted in: News | No Comments | Posted on May 21, 2022 by Mary Anne
May 21, 2022 -60 years ago today a tornado swept through Sarnia causing some major destruction and several deaths in the downtown and surrounding  area.  With this date as a reminder to us all, our thoughts and prayers go out to people in Oklahama.
From Wikipedia - A powerful tornado struck the city of Sarnia, Ontario, Canada, on the afternoon of May 21, 1953.
One of many violent tornadoes during this exceedingly active and deadly season, this tornado touched down just before 4:30pm near Smiths Creek, Michigan(approximately ten miles southwest of Port Huron). It moved steadily towards the east-northeast at 35 mph (56 km/h), where it devastated the southern edge of Port Huron some twenty minutes later resulting in widespread F3 and F4 damage. Two people were killed in Port Huron and twenty more were injured. Close to 400 homes were damaged or destroyed in the United States with monetary losses totaling $2.6 million .
Before crossing the St. Clair River into Canada, the parent thunderstorm dumped heavy amounts of rain and golfball-size hail on the city of Sarnia. This circumstance was credited with clearing the streets of motorists and pedestrians, henceforth reducing the potential number of tornado-related casualties. By 5:45 pm, however, the tornado roared into Canadajust south of Sarnia Harbour, where it intensified further and grew in size to 900 m (980 yd) across (Grazulis, 1990). Moving to the northeast, the tornado passed directly through the downtown area where nearly a hundred commercial buildings sustained damage. A four-floor hotel on the waterfront lost many of its upper floors, as was a furniture store on Christina Street. The auditorium of the Imperial Theatre completely collapsed. Nearby however, a steel-reinforced telephone exchange building received minimal damage, as a result of its sturdy construction.
At least 150 homes on the more suburban outskirts of the city were damaged and in some instances reduced to rubble. Before exiting Sarnia, the tornado curved even further to the northeast and began to weaken, as its path narrowed to approximately 30 m (33 yd) across.
As it moved into rural Lambton and Middlesex Counties, more F4 damage was inflicted upon farmsteads and homes near Nairn, before the tornado dissipated south of Stratford (Grazulis, 1990). This suggests a total path length exceeding 120 km (75 mi), though it is highly probable that this damage path was made up of more than one tornado, possibly as many as four.  At the very least, there were two other storm tracks that day both of which paralleled the Sarnia storm to its north and south. One of these tracked from Strathroy to northeast of London whereas the other originated near Lambton Shores before weakening near St. Mary's. Significant tornado damage in the F2 to F4 range was also reported with these storms, and it is likely that these parent supercells were also of the cyclic variety. As many as nine individual tornadoes may have touched down during this outbreak.  Financial losses in Canada totaled $15 million; five people were killed, 48 were injured, and 500 were left homeless.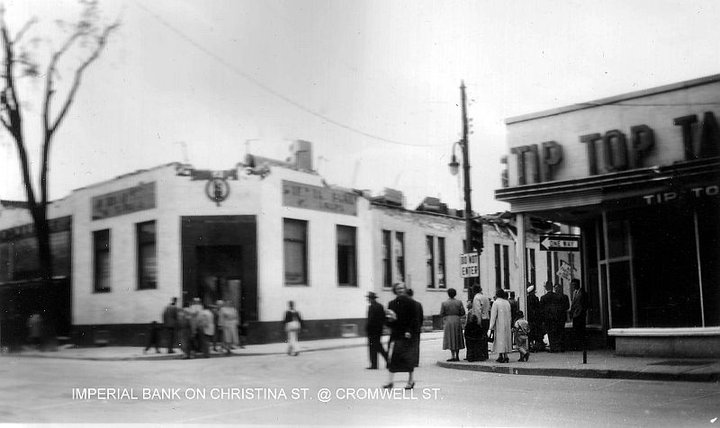 -Tip Top Tailor is now Cheeky Monkey - which was undamaged.  The building across Cromwell is the red building that now houses CCI Studios - it lost the top floor.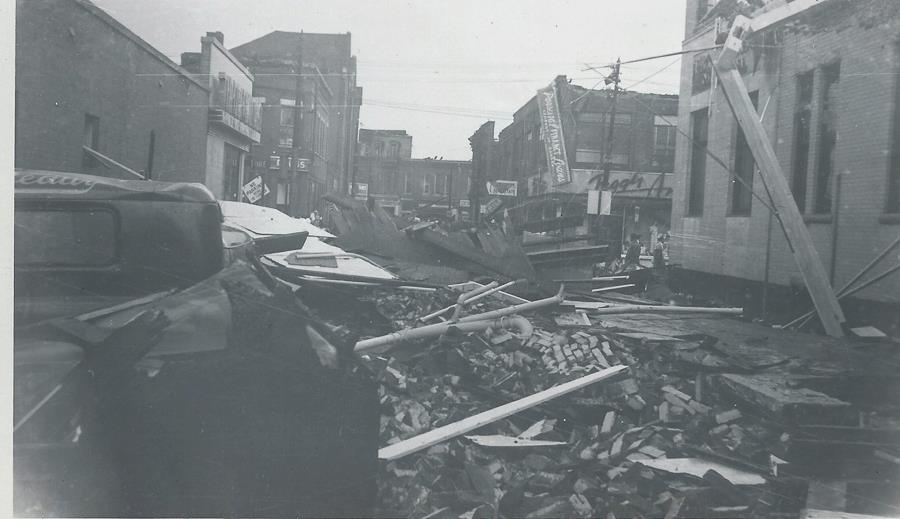 Cromwell looking towards the river.  To the left is our building where the mural now is painted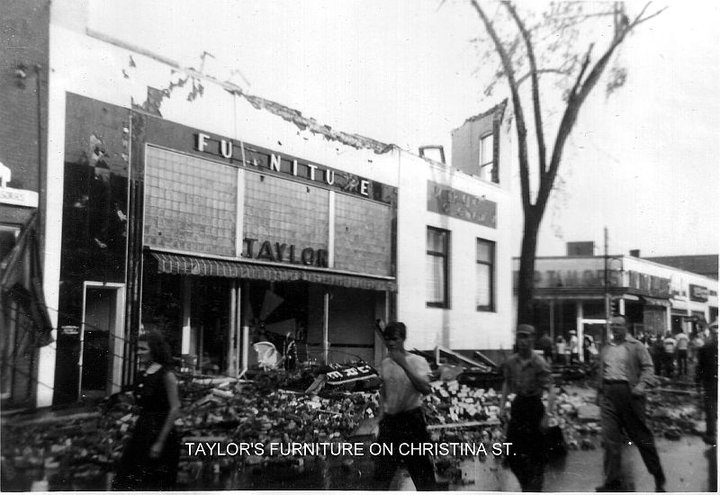 Taylor's Furniture (now Trendz) lost the back of their building.