Posted in: Entertainment History, News | 2 Comments | Posted on May 21, 2022 by Mary Anne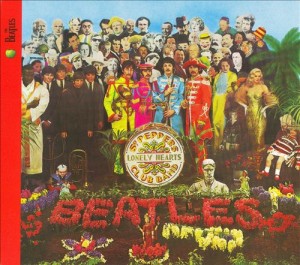 MAY 26…
1967 -
The Beatles masterpiece, "Sgt. Pepper's Lonely Hearts Club Band" was released in the UK, one week before its American debut. The album took over 700 hours to record under the direction of George Martin and cost $75,000 to produce. A then state-of-the-art four track recorder was used to build each song layer by layer. The LP spent 22 weeks at the top of the UK albums chart and 15 weeks at number one in the US. The iconic album cover, depicting the band posing in front of a collage of celebrities and historical figures, was designed by English pop artists Peter Blake and Jann Haworth based on a sketch by Paul McCartney. "Sgt. Pepper" has now sold over 30 million copies worldwide.
1969 -
John Lennon recorded "Give Peace a Chance" in a room at Hotel La Reine Elizabeth in Montreal, Canada. The voices of Tommy Smothers and Petula Clark can be heard on the chorus. The song was credited to Lennon / McCartney, even though Paul had nothing to do with the record. Lennon may have been showing his appreciation for McCartney's help on "The Ballad of John and Yoko" single, which the two of them recorded without George and Ringo.