Posted in: Concerts & Events, First Friday, Local Talent, News | No Comments | Posted on December 7, 2021 by Mary Anne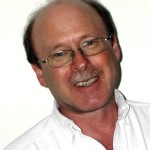 Review of December 4, 2021 First Friday at Cheeky Monkey written by Brian Hay.  Thank you Brian for attending our events over the year and being kind enough to share you insights into the local live music scene.  For other reviews by Brian CLICK HERE
There's still only one Mike Blackmore. The extra "Blackmore" is for the musical persona brought to life by way of the technology used in crafting  backing tracks to free up other facets of his playing. The balance needed to use those devices effectively is a fine one. Overuse can turn a set mechanical, (or as one good friend quipped, "into the special olympics of music"), really fast. Tempering its use with restraint however (and playing off what it conjures astutely) allows good players to open new doors. For Mike (whose idea of variety might actually be climbing back into the box) it opens ways to rethink music and approaches to it endlessly.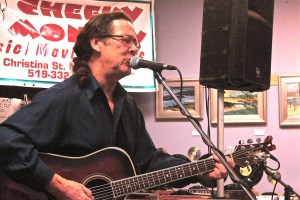 One thing playing solo brought to the fore nicely was his ability as a lead guitarist. Saying he's "expressive" wouldn't begin to describe the sense of deepest yearning to find both the roots of the songs and any musical possibilities that might lie on various corners. Setting up backing tracks and moving to a hand drum (which I believe is a "
Djembe
") showcased his percussive sensibilities. Whether solo, as part of a group , or even with another drummer involved, there's always a sense that his work on the guitar is being directed by a percussionist. Watching him step into his own work with a drum pretty much explained the phenomena — he jumps on top of his own cues sharply enough to keep the looping tracks feeling spontaneous. Everything involved combined to produce as fine an example of technology serving an individual as could be seen.
There was a lot of original compositions played in this set. Many were familiar but all of those had something of a new look. 'Hard Time' carried more of the Celtic feel he (normally) ascribes to it by referring to the piece as a "genuine Celtic Love song" when introducing it. (The "normally" bit is because he didn't introduce the song this time around but that was probably due to somebody distracting him with twenty questions while setting up to film). 'Wild Canadian Girl' got an upbeat reading, and one that really emphasized the presence of that invisible, but very tangible, drummer that rides him like a second shadow.
Other pieces, particularly his instrumentals, looked inward and demonstrated his love of relentless exploration. The feeling created in those was how much more introspective his solo work felt than what comes about when he works with other players. His open ended approach was still in place, as was the self-effacing humour that sprinkles through his performances, but the predominant sensation was of being guided inside so as to be offered personal insights as to what drives him both musically and in life. It was often very moving.
That's the norm for his shows though. Mike always remembers that songs have to be accessible and keeps in touch with the highs and lows sent by his audience. That stands whether the crowd is one or many and he achieves perfect harmony between consummate professionalism and artistic integrity by doing so.
To view more of the photos taken by Brian Hay
CLICK HERE