Posted in: Concerts & Events, Local Talent, News | No Comments | Posted on February 20, 2022 by Grumpy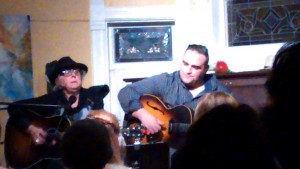 It was a dark and windy night, thankfully it wasn't stormy too, the perfect setting for a Lawrence House Concert. February 19th Missy Burgess along with guitarist Gianni Cinnelli presented a performance of The Songs Of Tom Waits.  Tom has been around for nearly 50 years and over that time he has delivered a challenging and varied body of work ranging from beatnik jazz to folk, to theatre to all out assault experimental  noise.
Missy's performance focused mostly but not entirely on the earlier period of Waits' work, with some standard well known compositions like Ol' 55 and I Hope I Don't Fall in Love With You but also included a few obscure selections such as Mockin' Bird (from The Early Years - a collection of demos from the early 70's) and The Fall of Troy (first released on the Dead Man Walking Soundtrack). Her voice, while not at all similar to Waits' ranged from a barely audible whisper on the melancholic Lullaby (from Blood Money) to full throated brawler on Jockey Full Of Bourbon (from Rain Dogs). The guitar playing was fine through the night, Gianni providing some interesting leads while Missy kept the tempo going.
Missy did two sets during the evening, choosing to close each with one of her own songs. In both cases her original songs were the highlights of very good sets. She has released three albums under her own name, the first included a guest appearance from her brother Michael - yes that Michael Burgess -  and at times I could hear her channelling her brother through Tom's songs,  kind of like Jean Valjean singing boho jazz in a female voice.
Missy Burgess doing Tom Waits was a sold out performance at the Lawrence House and they have booked a second show slated for April 22nd. You can reserve tickets for that show or one of their other concerts by calling the Lawrence House at 519-337-0507.
To view a few more photos CLICK HERE