Posted in: Local Talent, News, Reviews | No Comments | Posted on June 4, 2022 by Mary Anne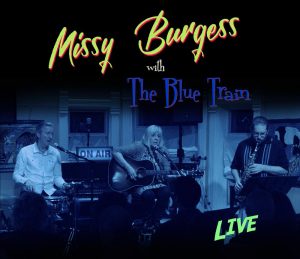 BAND MEMBERS:
Missy Burgess
Dwayne Cloes
Wulf Von Waldow
The recording on the disc captures their live performances to a tee. Their musical choices and their arrangements of them serves up a series of juicy nuggets that sound rich without being uncluttered. Edits within the songs themselves were kept to a minimum to preserve the energy in the performances. The sound, thanks to the mix Dwayne had set up, is pristine and captures the whole rather than just the best bits. This got more than just the show. It got the whole room and it's there for anyone who wants to appreciate the experience.
Track selections of material include 'Basket Of Blues', 'Don't Go To Cincinnati', 'Blue Dog Man' and 'If I Fell In Love Again', all original songs by Missy. Covers including 'Pilgrim' by Steve Earle, which was sung by Missy and Otis Blackwell's 'Fever', which were performed by Dwayne featured arrangements that allowed the ensemble to make the pieces their own.
This recording gets an unconditional recommendation.
This review written in part by Brian Hay with edits by MA