Posted in: DVD and Blu-Ray, Local Talent, News | No Comments | Posted on September 10, 2021 by Mary Anne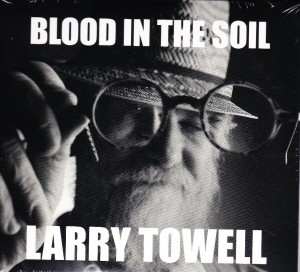 LARRY TOWELL NEWEST CD/DVD 'BLOOD IN THE SOIL' NOW ON SALE AT CHEEKY MONKEY (in-store & on website MUSIC BAZAAR - click on tab above)
Music runs deep in the life of photojournalist Larry Towell.
Along with his gallery exhibitions, 13 books and more than 35 photography awards, Towell is a musician and songwriter set to release his fifth album, Blood in the Soil, with a concert at Wallaceburg's Jeanne Gorden Theatre Sept. 10, featuring long-time collaborator and harmonica player Mike Stevens.
"I've been a songwriter all my life," said Towell, who grew up near Sombra, one of eight children of Earl and Helen Towell, playing drums in a family band that performed at weddings and dances.
Towell returned home after university and taught folk music at Lambton College before he began to concentrate on photography in the 1980s, eventually joining the New York-based Magnum Photo Agency.
But, Towell said, "I've always done music as a second expression of storytelling."
About half of the album's songs are about peace, reconciliation and conflict, "and various things inspired by my travel and work," he said.
"I would say it's more roots than anything else, but it's a little experimental as well."
Produced with Guelph's Scott Merritt, the musicians featured on the album include Stevens, Jeff Bird, Don Rooke, vocalist Gwen Swick, and others, with Towell playing shurti box, saw, guitar and bones.
Towell has travelled to Central America, the Middle East, Afghanistan and other regions of the world as a photographer, with an interest in social justice.
And, he has written songs on those travels, as well as at home on the farm near Shetland where he and his wife, author Ann Towell, raised their family.
"I have a trailer back by the pond, and sometimes I grab my guitar and go back there for the night," he said.
"Songwriters write songs, and mostly they come from my experiences, or my politics, or whatever spirit songs come from.
"I'm a storyteller, I guess, as a photographer and writer, and as a musician."
Towell said he thinks songwriter and actor Tom Waits got it right when he said, "You can't put on your business card, 'carpenter, songwriter, psychiatrist' because it looks like you can't do anything well."
While artists are generally best know for one thing, they often work away honing other skills, and other forms of expression.
In Towell's case, his different forms of storytelling are integrated in live shows that include his photographs, music, poetry and stories.
Blood in the Soil will be available beginning in September from the website www.larrytowell.com, and at the Cheeky Monkey record store and The Book Keeper in Sarnia, as well as Rona Hardware in Florence.
It comes with a DVD of a show filmed at Toronto's Drake Hotel featuring the band The Henrys accompanying Towell's photographs.
Admission to the Sept. 10 show at the Jeanne Gordon Theatre on King Street in Wallaceburg is $25. Tickets are available from the Wallaceburg and District Museum, 519-627-8962.