Posted in: What's New | No Comments | Posted on February 3, 2022 by Grumpy
Earlier this year, Mumford & Sons embarked on an historic, sell-out tour of South Africa.
In addition to filming this concert, they spent two all-day-and-all-night sessions at the South African Broadcasting Corporation writing and recording new songs with Baaba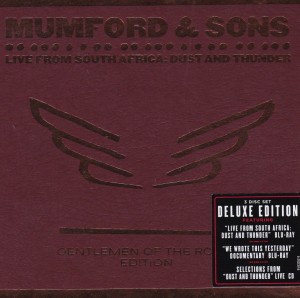 Maal, Beatenberg and The Very Best. The resulting "Johannesburg" mini-album was a top ten hit in June this year in their major markets (and the lead track, 'There Will Be Time', went straight to number 1 in South Africa upon release in late January - the band's first number 1 single). All of these artists appear on "Live From South Africa: Dust And Thunder".
Directed by Dick Carruthers (Led Zeppelin, The Killers, Imagine Dragons, Beyoncé), the shoot took place in Pretoria, South Africa during their Gentlemen Of The Road stopover dates. The band have a handful of final dates left in North America on their Wilder Mind campaign.
Live From South Africa ism available as a DVD, Blu-ray or in a special 3 disc with a video of the concert on disc 1, documentary of their historic visit to South Africa on disc 2 and a CD version of the concert on disc 3.