Posted in: Magazine and Books, News | No Comments | Posted on May 12, 2022 by Mary Anne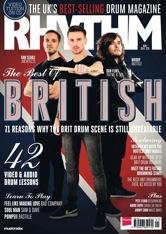 Rhythm is the UK's biggest selling drum magazine, bringing you news, interviews with drum stars, in-depth expert gear reviews and top notch drum tuition every month. This issue, The Best Of British. Dan Flint (You Me At Six), Dan Searle (Architects) and Chris 'Woody' Wood (Bastille) head up Rhythm's celebration of all things great about the UK drum scene, including profiling some of its best new drummers, the master craftsmen putting British drum building on the global map, the UK's many fantastic drum stores and more. Plus, the greatest British drummer of all time, as voted for by Rhythm readers.
Also in this issue, Pete Flood of boisterous folk collective Bellowhead tells us about getting the right sounds for the gig, Andre Boyd tells us about his gig with Cirque Du Soleil and jazz legend Jimmy Cobb recalls working with Miles Davis on classic jazz album Kind Of Blue. Plus all the usual great tuition including lessons on mirrored phrasing, applying flams and snare drum solos, plus learn to play tracks by Sam & Dave, Bastille and Bad Company. We also have expert, in-depth reviews of new gear, including Mapex's new Saturn IV shell pack, Zildjian Kerope cymbals, Yamaha Dave Weckl snares, Cruz Tools' Multi-Tool and Roland's new TM-2 trigger module. There's never been a better time to pick up Rhythm!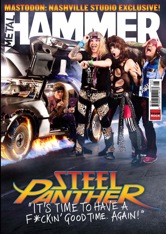 METAL HAMMER featuring STEEL PANTHER + Free CD & posters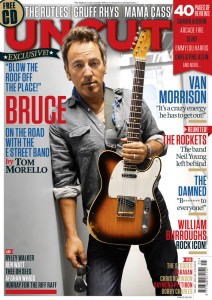 - UNCUT -
FREE CD: KEEP THE FIRE BURNING
Uncut's Guide To The Best New Music, including Afghan Whigs, Howlin Rain, The Men, EMA, The Delines, Joan As Police Woman, Ben Watt and more
INSTANT KARMA!
In our front section this month: The Stooges, Raymond Pettibon, The Rockets, Ryley Walker, James Jamerson
FEATURES
NEIL INNES
The Bonzos and Rutles mastermind
GRUFF RHYS
The Super Furry Animal on his 25-year rock odyssey and his latest project – a book, a film and a new album!
VAN MORRISON
The story behind neglected mystical masterpiece Veedon Fleece
BRUCE SPRINGSTEEN
On tour with a radical Boss: an exclusive account by Tom Morello, guitarist with the E Street Band
THE DAMNED
1979's hippy-baiting hit "Smash It Up"
WILLIAM BURROUGHS
Outlaw writer, rock icon, cultural engineer. The hippest man ever?
CARAVAN
Album by album with the hirsute Canterbury melodicists
MAMA CASS
The short, extraordinary life of a great singer, recalled by her friends and collaborators
CHRIS ROBINSON
His life in music
REVIEWS
MUSIC
New Albums – including: Damon Albarn, The Afghan Whigs, Thee Oh Sees, The Delines
The Archive – including: Slint, Bobby Charles, Emmylou Harris
FILM & DVD Richard Ayoade's The Double, The Clash, Rowland S Howard
BOOKS Love Goes To Buildings On Fire: the '70s music scene in New York
LIVE
 Arcade Fire, Trans, Dave & Phil Alvin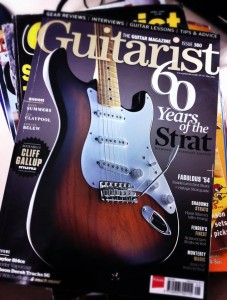 - GUITARIST  - The cover feature celebrates six decades of the Fender Guitar Stratocaster, and includes a new, exclusive interview with Hank Marvin alongside plenty more Strat action. They also speak to Andy Summers, "Les Claypool", Adrian Belew, Robert Cray and former Verve man Nick McCabe whose new project Black Submarine has recently set sail. In addition,  reviews on the new Gibson Derek Trucks SG, the Fender Pawn Shop Special Vaporizer combo, the 814ce from Taylor Guitars and much more, and show you how to play guitar like legendary Gene Vincent and the Blue Caps rock 'n' roller Cliff Gallup.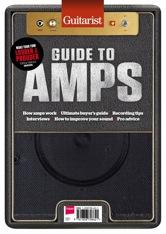 - Guitarist - GUIDE TO AMPS -  Where would electric guitarists be without amplifiers? Playing awfully quietly for a start.
Electric guitar models such as the Stratocaster, Les Paul, Telecaster, JEM, Custom 22, Flying V et al are undoubtedly the more glamorous half of the rock 'n' roll guitar equation, but without amplifiers they'd be pretty useless. And amplifiers are now at high stages of evolution. It's arguable that the "basic" electric guitar – wood, wire and pickups – hasn't fundamentally changed in decades, but that's not true for amplifiers.
The amp industry is brimming with innovation and technology, meaning electric guitarists have more tones at their disposal than ever before. You'll find all amp types in the Guitarist Guide To Amps, from small practice combos to arena-slaying stacks and everything in between. But we know it can be a confusing arena – most players pay more attention to their guitar than what they plug it into. But with the Guitarist Guide To Amps, you'll soon learn to appreciate the fi nesse of that "box" you plug into.
Features Include:
Combos versus stacks.
Volume tests - What makes an amp loud?
Amp trivia and more!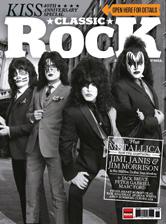 - CLASSIC ROCK - feature stories include…
Kiss - We look back over four decades of flash-bombs, face paint, platform boots and pinball machines. Oh and some of the best anthems known to man!
The Pixies - 20 years after the Doolittle album took them from obscurity to top 10, the band that Kurt Cobain in remain as engagingly enigmatic as ever!
PLUS! Jack Bruce, Magnum, Metallica, Marc Ford & more!
Including a free CD!