Posted in: What's New | No Comments | Posted on June 4, 2022 by Grumpy
Matador Records is very pleased to present …Like Clockwork, the brand new full length release from Queens Of The Stone Age, available June 4th.
For their first album in six years, Joshua Homme's mighty Queens Of The Stone Age, including Troy Van Leeuwen, Michael Shuman and Dean Fertita, called back Songs For The Deaf members Dave Grohl and Joey Castillo on drums, along with Nick Oliveri and Mark Lanegan on vocals.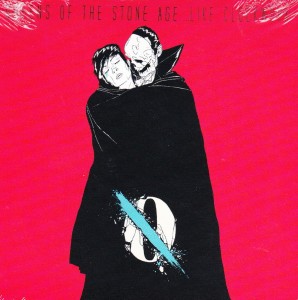 In addition, there are performances on the album from Sir Elton John, Trent Reznor, Alex Turner (Arctic Monkeys), Jake Shears (Scissor Sisters), James Lavelle (U.N.K.L.E.) and more.
…Like Clockwork contains Homme's most intense, personal and beautiful songwriting to date. While the thunder of Queens past is still evident (especially in premiere track "My God Is The Sun") there are a number of gorgeous ballads — meditations on time passing, the struggle to create art, and the nearness of mortality.
The music lives up to the album's lyrical and conceptual ambitions, with some of Homme's finest guitar work to date, at times recalling past greats such as Brian May or George Harrison, at other times uniquely his own. The rhythm section starts and stops on a dime, and in some of the more complex songs, the ensemble playing is virtuosic - but never sterile.
The striking album artwork, imagery and forthcoming introductory animated shorts are by young British artist Boneface, working closely with Homme.
…Like Clockwork's release is preceded by lead track "My God Is The Sun," which
received its recent live debut in Queens Of The Stone Age's set at Lollapalooza Brazil
and was unveiled via a world wide radio premiere from Zane Lowe on BBC Radio 1 with an extended interview with main man, Josh.
The album was produced by Joshua Homme and QOTSA, recorded by Mark Rankin with additional engineering by Justin Smith, at Josh's studio, Pink Duck, in Burbank, California.
The album is available in 3 unique import configurations: CD in O-card, standard 2 LP on 150 gram vinyl with printed inner sleeves, and deluxe limited edition 2 LP on 180 gram vinyl with ultra thick cover and 20- page 12X12 book. All LP versions include an MP3 coupon.
Described by Queens principal Joshua Homme as "an audio documentary of a manic year," …Like Clockwork is the band's first full length collection of all new material since 2007's Era Vulgaris, a Top 5, gold selling album in Canada.
True road warriors, QOTSA will be playing festivals throughout the summer, including the Squamish Valley Music Festival in British Columbia this August. Further Canadian dates are coming late summer.