Posted in: Concerts & Events, Local Talent, News | No Comments | Posted on April 18, 2022 by Mary Anne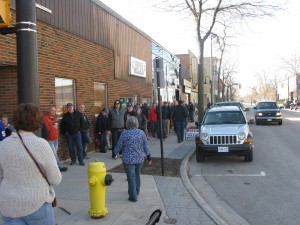 WHAT A DAY it was on Saturday, April 16, 2016.  Our most successful Record Store Day to date.  Starting at 8:30 a.m. when we arrived to find not only part of the band that would be playing live in store already here to set up, but customers were already waiting too.  Some had been here a while and were prepared to wait the next hour in their comfy folding chairs.
A few moments after we got inside to do the last minute prep for the day, ever faithful volunteers and good friends, Ross and Laurissa Ellsworth arrived followed closely by our other dependable friend Maureen Murphy.  Have to say this right now - in all honesty, we would not be able to do Record Store Day without their assistance.  All 3 of them were just amazing.  THANK YOU.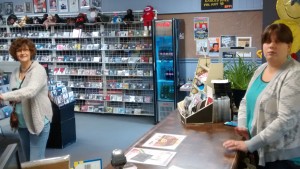 While saying 'thank you', have to say how much we appreciate Borderlite Trio playing again this year for the crowd of shoppers.  They are a perfect fit to kick off the day.  Below is a review of the day, including glowing words for the band.  They deserve every good word about them.
Also need to thank the local media.  Carl at Sarnia This Week for doing a story on us before the big day, then taking the time to stop in again on RSD despite not feeling well.  That is dedication to a job and to local news above and beyond the call of duty.  CLICK HERE  to read it.  Got to meet for the first time, Terry of the Sarnia Observer who stopped in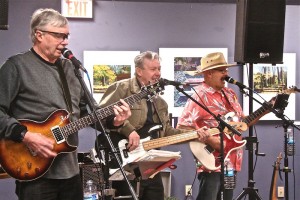 Saturday to check out RSD.  CLICK HERE to read Terry's interview with Roland.  Even Blackburn Radio mentioned us in their Saturday morning news report at 7 a.m. on The Fox.  At least that is when I heard it.  Thank you Blackburn Radio.  Every year for many years now, RSD has been featured on The Show With David Burrows, which is awesome.  Thanks David for your continuous support.   CLICK HERE to view episode # 232 featuring Roland on camer. Lastly, The Sarnia Journal included RSD in the local events column.  They do this for our First Friday events, which we along with the local bands who play here, very much appreciate.
Our next door neighbours and wonderful friends at Totally Game Meat deserved to be thanked too.  They not only provided some of their tasty goodies for our snack table, but

they also handed out samples to the throng waiting outside in the line up to get in at opening.
Our 'mystery bags'  items for draws during RSD where provided in large my Mint Records.  Every year this little indie label with the big talent comes through for us.  CLICK HERE to see the diverse artists they represent and we are happy to sell to you. Our 2 draw winners are Tania Valencia-Acuna for bag # 1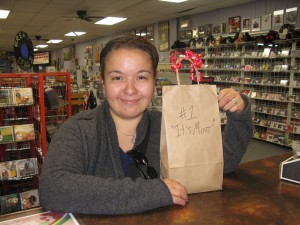 called "It's Mint" (filled with Mint Records swag like coasters, pins, reusable shopping bag & yoyo) and bag #2 called "Life's a Beach"  was won by Steve Hayes.  Congrats to both and thanks for joining us for RSD.
The last heartfelt thank you has to go to you - our dear customers.  Once again you have validated our existence and given us faith in our decision to do what we love to do.  Thanks for helping make Roland's dream of owning a record store continue to be fulfilled.
Now read on for a review of the day by our favourite local entertainment blogger, Brian Hay and watch a video he made while at Cheeky Monkey as Borderlite Trio was coming on for their 2nd set of the morning.  For more photos of the day taken by Ross and Brian, you can CLICK HERE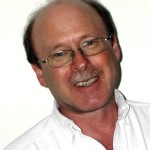 Downtown As It Can Be
by Brian Hay
The Cheeky Monkey was a busy place. People were milling about everywhere and the line of buyers had no end in sight. That was how it seemed anyway. Inside, there was the audible hum that forms when a large number of bodies say little while moving around and taking things in. Sounds of tastefully played live music filled the air. It was early — the store had been open for less than a half hour — but it was absolutely right for the music lover's bonanza known as Record Store Day.
The music was coming from the Borderlite Trio. Their format is simple. Bass guitarist Ed Roane laid down melody and time which the other two reinforced in varying ways. Lead player Peter Meharg alternated rhythmic formats, playing the full time sequence at some points and just the beat notes at others. Between those occasions he dished up impeccably restrained solo passages. The tone from his instrument was lovely. Guitarist John Tiernay sang the bulk of the lead with backup from the others that varied between straight harmony and multi-part arrangements. He was suffering from a bad cold and struggled with a few high notes because of it but his pitch was always flawless.
Their repertoire stemmed largely from the softer areas of classic rock featuring work by the Beatles, Bob Seeger and such but also offered more recent fare such as covers from the catalogues of groups like Blue Rodeo and solo artists such as Jason Mraz. Establishing dialogue between lead and harmony sections along with Ed Roane being able to sing lead gave their performance an added dimension that was enhanced by the uniqueness of their interpretations. Whether performing as a full band or just a trio, they consistently deliver some of the most delectable band/harmony arrangements that can be found in the area.
That was just part of the fun. Stands offering limited editions of promotional items the labels made available in recognition of the independent retailers were placed strategically throughout the store. The snack table included succulent treats from their neighbours at Totally Game Meat. Their products are all made from meats not normally found in grocery stores. The meats include bison, venison and elk and have a singular taste which makes them wonderfully identifiable. Owners MaryAnne and Roland Peloza were hopping. MaryAnne was at the counter with helper Laurissa Ellswort completing sales and answering questions. Roland was out and about with volunteer Ross Ellsworth checking for requests, refilling displays and mingling with customers. A third volunteer, Maureen Murphy, was busy handing out free gifts to every purchaser along with a ballot for two surprise gift bags with items kindly provided by Mint Records. All of them were enjoying the day, as they should have been.
They had the type of crowd not seen often in downtown Sarnia, but which will attend events that offer something worthwhile. Record Store Day was the real deal for browsing, listening and buying. That's why so many people were there.
Record Store Day was celebrated at the Cheeky Monkey on Saturday April 16, 2016. This article and the page it's on were done up to convey impressions of what fun it could be to go out and be a part of things.