Posted in: LIFE CHANGING SONGS, News | No Comments | Posted on November 28, 2021 by Mary Anne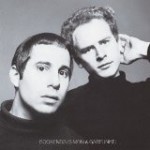 "A Hazy Shade of Winter" is a song by American music duo Simon & Garfunkel, released on October 22, 1966, initially as a stand-alone single, but was subsequently included on the duo's fourth studio album, Bookends (1968). The song peaked at number 13 on the Billboard Hot 100.
In 1987, The Bangles recorded a cover version of the song that charted higher, at number two on the national charts.
"A Hazy Shade of Winter" follows a more rock-tinged sound, with a fairly straightforward verse-refrain structure.  The song dates back to Simon's days in England in 1965. The song follows a hopeless poet, with "manuscripts of unpublished rhyme", unsure of his achievements in life.
The lyrics evoke the passage of the seasons, but (as the title suggests) focusing on the gloominess of winter. The chorus of the song repeats:
But look around,
leaves are brown now
And the sky
is a hazy shade of winter
Look around,
leaves are brown
There's a patch of snow on the ground.