Posted in: What's New | 1 Comment | Posted on March 11, 2022 by Grumpy
s most beloved entertainers, Steve Martin and the Steep Canyon Rangers featuring Edie Brickell.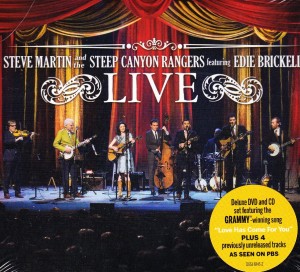 This is their first ever live concert DVD capturing their extraordinary performance at the historic Fox Performing Arts Center in Riverside California last fall. The live performance was recorded for PBS' "Great Performances" and features material from Martin and Brickell's Grammy-nominated album "Love Has Come For You," as well as music from Martin's Grammy nominated collaboration with The Steep Canyon Rangers, "Rare Bird Alert," and his Grammy Award winning album "The Crow: New Songs for the Five-String Banjo." This special live DVD features Martin's unique blend of comedy and bluegrass and is a first class evening of excellent entertainment.
The live CD component was produced by Peter Asher (James Taylor, Linda Ronstadt, Elvis Costello) Steve has won 4 Grammy awards: 2 for comedy albums, 1 for best country instrumental performance, and 1 for best bluegrass album. This will be Steve's 4th release with Rounder; previous releases were The Crow: New Songs For The 5-Stringed Banjo, Rare Bird Alert, and Love Has Come For You.
Edie is best known for her platinum album with the New Bohemians, Shooting Rubber Bands At the Stars, which featured "What I Am" and "Circle." Most recent collaboration – Love Has Come For You. Since 2009 the Steep Canyon Rangers have received widespread acclaim as Steve Martin's backing band, but in 2012 the music community really tipped its hat to the quintet by presenting them with the Grammy® for Best Bluegrass Album.