Posted in: ADVENTURES OF CHEEKY CHARLIE, Concerts & Events, Local Talent, News, Reviews | No Comments | Posted on October 26, 2021 by Mary Anne

On the evening of Friday, October 26, we had the pleasure of being in the audience for the second local performance of THE GREAT STORM: THE PLAY presented by Goderich Little Theatre.
This over 2 hour play written and directed by Goderich native, Warren L. Robinson follows the lives of two families from very different backgrounds and social circles before, during and after the Great Storm of 1913.
If you are like me, you may have been unaware of what is still known to be the world's greatest freshwater disaster.  Apparently three major storms 'collided' with each other in a matter of hours over our Great Lakes area.  Keep in mind, 100 years ago there was not the weather forecasting technology we currently have.  There would be little to no warning for the ships out on the water or the communities near the shores.  The devastation and loss of life was incredible.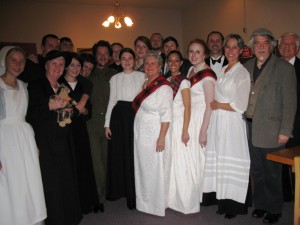 With a cast of over 30 actors & actresses, there were too many strong performances to write about them all.  The main characters were the Scottish family of wealthy ship owners and the impoverished family of Irish furniture builders.  There was not a single week performer in the entire troupe.
The set was sparse and changed often going from one families home to the other.  Despite that, it flowed well and carried on in chronological order helping the audience understand and follow the order of events as they occurred.
A Celtic band sat to the side of the stage giving perfect atmosphere to the unfolding drama as well as accompaniment to many of the songs sang throughout.   Thanks to the talent of the band and the expert acting, I felt a full range of emotions from the extreme joy of an Irish wedding to the heavy sadness of a funeral of a young newly married son/husband.
If you were not a member of the audience over the two night run of  The Great Storm: The Play here in Sarnia, then I strongly recommend you take the short drive to Goderich to see it for yourself.  Performance dates are Oct. 31, Nov 1, 2, 7, 8, 9 for 8:00 p.m. shows.  On Nov. 3 & 10 there will be 2:00 pm matinee shows at the Livery Theatre, 35 South Street.  CLICK HERE for ticket info or call 519-524-6262