Posted in: Concerts & Events, News, Reviews | No Comments | Posted on July 10, 2022 by Grumpy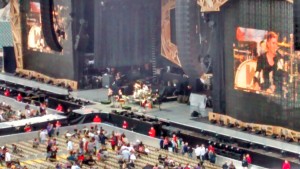 Not having missed a Rolling Stones farewell tour since 1981, I had an appointment at Comerica Park in Detroit on July 8th to see the GREATEST ROCK N ROLL band for yet another possible final show. At this point no-one has done it longer than the Stones and they show no signs of slowing down.
After a competent opening set by Ohio's Walk The Moon, the Stones took the stage at 9:30 p.m. and it was nearly midnight when they were done. This Detroit show was all about the hard stuff, there was barely a ballad in the lengthy set that mostly featured songs from their albums that were recorded between 1968 and 1978, arguably their best years. Since they had no new album to promote they could, and the did stick to crowd favourites, and  even managed to include in a few songs that I've rarely, if ever, seen them do over the 12 shows that I have been to.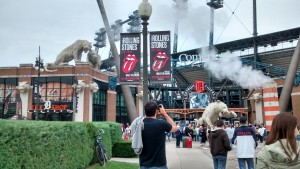 As good as the first ten songs were, they were no match for the second half of the show, which kicked of after Keith's lead vocal on 2 songs with a prolonged Midnight Rambler. What followed was a deluge of hits including Gimme Shelter, Honky Tonk Women, Miss You, Sympathy for the Devil and more. The encore began with the sing along favourite You Can't Always Get What You Want before Satisfaction closed out the show.
The only complaint with the evening was the choice of venue.  Comerica Park is wonderful for a baseball game but no so good for massive concerts. The stage is set at the back of the outfield and is too far away from all but the first few rows of the main floor.
Even considering the venue, the show was definitely a success, the audience left happy and despite the price of the ticket the feeling was that  everyone got their money's worth.
Seeing the chemistry and joy the band displayed on the stage, I think we may be seeing more of the Rolling Stones. Farewell show number 13 aqnyone?
For more photos taken by Mary Anne with her cell phone CLICK HERE