Posted in: News, THE SHOW with David Burrows | No Comments | Posted on May 19, 2022 by Mary Anne
Published on May 16, 2022
The Show with David Burrows #289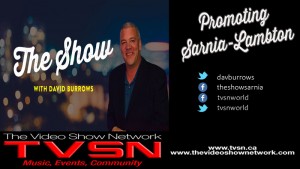 Opening Segment:
Thank you to our partners. www.lambtonshield.com www.cheekymonkeysarnia.ca www.chok.com
The Entertainment Scene:
B-I-N-G-O! The Mayors Community Fund is supporting a bingo fundraiser to support River City Vineyard​ foodbank. The event will take place at Jackpot City Sarnia​. Vineyard volunteer Renee Vandertil-Card​ explains.
In The Community:
Ignite Sarnia​ has returned. This local event features many local speakers with a time limit. Organizer for the event Megan O'Neil-Renaud​ explains the fun and excitement of this free event.
Closing Segment:
Updated website at www.tvsn.ca
Prize giveaways and what is next on #livewithdavid.