Posted in: Entertainment History, News, Trivia Q & A | 2 Comments | Posted on July 21, 2022 by Mary Anne
July 27
~ 1981 - Stevie Nicks releases her first solo album, Bella Donna
~ 1983 - Madonna's self-titled debut album was released.
July 28
~ 1750 - Johann Sebastian Bach died after an unsuccessful eye operation.
1987 - The Beatles sued Nike and Capitol Records over the use of their song "Revolution" in shoe commercials.
July 29
~ 1967 - The Doors have their first #1 hit with 'Light My Fire;
~ 1963 - Geddy Lee of Rush was born
July 30
~ 1954 - Elvis Presley made his professional debut in Memphis. It was his first concert to be advertised.
~ 1987 - David Bowie played the first show of his North American "Glass Spider" tour in Philadelphia, PA.
July 31
~ 1971 - James Taylor and Carole King have a hit with "You've Got A Friend".
~ 1969 - A Moscow police chief reported that thousands of Moscow telephone booths had been made inoperable by thieves who had stolen phone parts in order to convert their acoustic guitars to electric.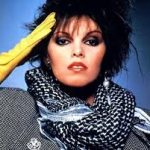 August 1
~ 1971 -Concert For Bangladesh was held at Maidson Square Gardens
~ 1981 - MTV began broadcasting at 12:01 a.m. Eastern Time, MTV launched with the words "Ladies and gentlemen, rock and roll," spoken by John Lack and played over footage of the first Space Shuttle launch countdown of Columbia (which took place earlier that year) and of the launch of Apollo 11. Those words were immediately followed by the original MTV theme song, a crunching rock tune composed by Jonathan Elias and John Petersen, playing over the American flag changed to show MTV's logo changing into various textures and designs.  The first music video shown on MTV was The Buggles' "Video Killed the Radio Star", originally only available to homes in New Jersey. This was followed by the video for Pat Benatar's "You Better Run". Sporadically, the screen would go black when an employee at MTV inserted a tape into a VCR. The channel originally aired music videos as guided by television personalities known as "video jockeys" (VJs). At first, MTV's main target demographic was young adults, but today it is primarily teenagers, particularly high school and college students. MTV has toned down its music video programming significantly in recent years, and its programming now consists mainly of original reality, comedy and drama programming and some off-network syndicated programs and films, with limited music video programming in off-peak time periods
August 2
~ 1961 - The Beatles began their engagement as regular headliners at Liverpool's Cavern Club. They performed about 300 shows over the next two years.
~ 1962 - Robert Zimmerman legally changed his name to Bob Dylan.