Posted in: News, Trivia Q & A | No Comments | Posted on May 9, 2022 by Mary Anne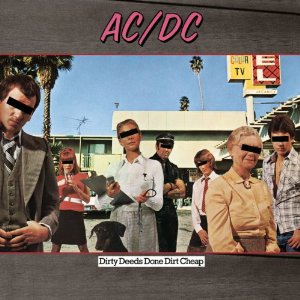 Q.  What AC/DC song took five years to become a hit?
A.  Dirty Deeds done Dirt Cheap
"Dirty Deeds Done Dirt Cheap" is a song by Australian hard rock band AC/DC. It is the title track and first track of their album Dirty Deeds Done Dirt Cheap, released in September 1976, and was written by Angus Young, Malcolm Young, and Bon Scott.
The song ranked No. 24 on VH1's 40 Greatest Metal Songs and in 2009 it was named the 31st best hard rock song of all time also by VH1.

The song's narrator invites people experiencing problems to either call him on 36-24-36, an actual phone number in Australia at the time, or visit him at his home, at which point he will perform assorted unsavoury acts to resolve said problems. Situations in which he offers assistance include those involving lewd high school headmasters and significant others who are either adulterous or who persistently find fault with their partners. As detailed by the song, the "dirty deeds" performed at low cost include:
Concrete shoes
Cyanide
TNT
Neckties
Contracts
High voltage
Two of the services offered share names with AC/DC's first two Australian albums, T.N.T. and High Voltage. They are also the names of songs that appeared on Australia's T.N.T. and the international version of High Voltage. Additionally, the six digits of the telephone number provided by the speaker are the idealized "perfect measurements" of a woman (36″–24″–36″.
The phrase "Dirty Deeds Done Dirt Cheap" is a homage to the cartoon Beany and Cecil, which Angus Young watched when he was a child. One of the cartoon's characters was named Dishonest John, who carried a business card that read: "Dirty Deeds Done Dirt Cheap. Holidays, Sundays, and Special Rates."  In the original, unreleased version of the song, the term "Dunder Chief" was used in place of the lyrics "done dirt cheap."
In 1981, Norman and Marilyn White of Libertyville, Illinois filed a $250,000 lawsuit in Lake County, Illinois Circuit Court against Atlantic Recordsand its distributors because, they alleged, their telephone number was included in the song, resulting in hundreds of prank phone calls. Their attorney told the Chicago Tribune that the song's 36-24-36 digits were followed by what to his clients sounded like an "8," thus creating the couple's phone number.