Posted in: News, Trivia Q & A | No Comments | Posted on May 13, 2022 by Mary Anne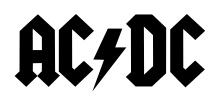 Q. How did AC/DC get their name?
A. Malcolm and Angus Young developed the idea for the band's name after their sister, Margaret Young, saw the initials "AC/DC" on a sewing machine. "AC/DC" is an abbreviation meaning "alternating current/direct current" electricity. The brothers felt that this name symbolized the band's raw energy, power-driven performances of their music. "AC/DC" is pronounced one letter at a time, though the band are colloquially known as "Acca Dacca" in Australia. The AC/DC band name is stylized with a lightning bolt separating the "AC" and "DC" and has been used on all studio albums, with the exception of the international version of Dirty Deeds Done Dirt Cheap.
The band's logo was designed in 1977 by Gerard Huerta, commissioned by Bob Defrin, the art director at Atlantic Records during the 1970s. It first appeared on the international version of Let There Be Rock.